Croatia Places 10Y EUR Paper at 2.975%
Croatian Ministry of Finance yesterday issued a new EUR 1.25bn 10-year Eurobond at a yield of 2.975% while in the beginning of February it issued 8Y EUR denominated paper at 1.39%, reflecting the sharp rise of both yields and spreads. In this article, we are looking into more details on the yesterday's deal and what to expect further.
Immediately after the first local bond issuance that took place in February 2022 Finance Minister Maric said that Croatia is preparing to issue a new Eurobond to finance EUR 1.25bn worth of CROATI 2022 paper that matures in the end of May. Yields were marching higher back then and issuance was most likely postponed for some better times. However, yields around the world continued shooting higher and Ministry of Finance decided that it should issue bonds this week to move out this challenge from their schedule. On Monday, joint bookrunners Citi, Erste, JPM, and MS organized a global investor call on which Finance Minister Mr Maric presented the current fiscal situation stating that the Croatian deficit was below 3.0% of GDP in 2021 and that debt to GDP could be below 80%, although official numbers should be published soon (April 22nd). On the call, it was stated that book building could follow on the day after (Tuesday), however, in the morning we were informed that due to the market backdrop books will be opened on Wednesday or later.
Auction for the new 10y Eurobond officially started on Wednesday as stated and IPT was set at MS+175bps area i.e., 3.30%. Looking at the two neighboring papers' (CROATI 2031 and CROATI 2033) bid prices in the morning that stood at 2.78% and 2.84%, yield looked quite rich. However, the long-end yield curve went up by 10bps after the announcement resulting in yields of 2.88% and 2.95%, respectively. With IPT at 3.30%, something was still a bit mispriced. At 1 pm investors were informed that the book was above EUR 2.3bn with an expected size of EUR 1bn and that targeted yield was decreased to MS+160 which was around 3.10% at the exact moment. Final terms were sent an hour and a half later saying that a new eurobond will be issued at MS+150bps i.e., 2.975% in total notional of EUR 1.25bn. Coupon was set at 2.875% with a reoffer price of 99.146. Books stood above EUR 3bn, reflecting a bid to cover of 2.4 meaning that Croatian 10Y paper had a stronger bid to cover compared to 5y BTPs issued a few hours before. In the end, books were a bit decreased to EUR 2.65bn, reflecting decreased NIP that took away some of the investors. Looking at the spread, one should look at risk-off due to Russian aggression or the corona risk-off to find spread of Croatian longer bonds being above 200bps compared to benchmark as CROATI 2032 was issued 220bps above German bund. However, in both times bund yield was close to or even below zero while yesterday's yield was around 0.80%, level last time seen in 2015. In any case, Croatia was the first CEE country to break the ice for government auction after the dramatic rise in yields, and in the following weeks, we could see Romania, Poland, and others coming to markets for fresh financing.  
With this auction, Croatian Ministry of Finance secured funds for CROATI 2022 and could pause now until summer when will have to finance local paper RHMF-O-227E while we cannot exclude one more auction after to finance deficit for this year. Yield of 2.975% is much more compared to 1.39% that Ministry issued RHMF-O-302E, but it is important to note that CROATI 2022 has a coupon of 3.875% meaning that Croatian cost of debt is still on the downward path. Talking about costs of debt, the average yield of all bonds currently outstanding is 2.74%, with CROATI 2032 being excluded.
What to expect from the newly issued bond on the secondary market? First grey indications were positive as dealers and brokers were showing positive bids compared to reoffer price while bund yields were marginally lower. One could say that Croatian 10Y at 3.0% is a steal but bearing in mind what was happening for the last 3 months on bond markets we leave this theme for another article.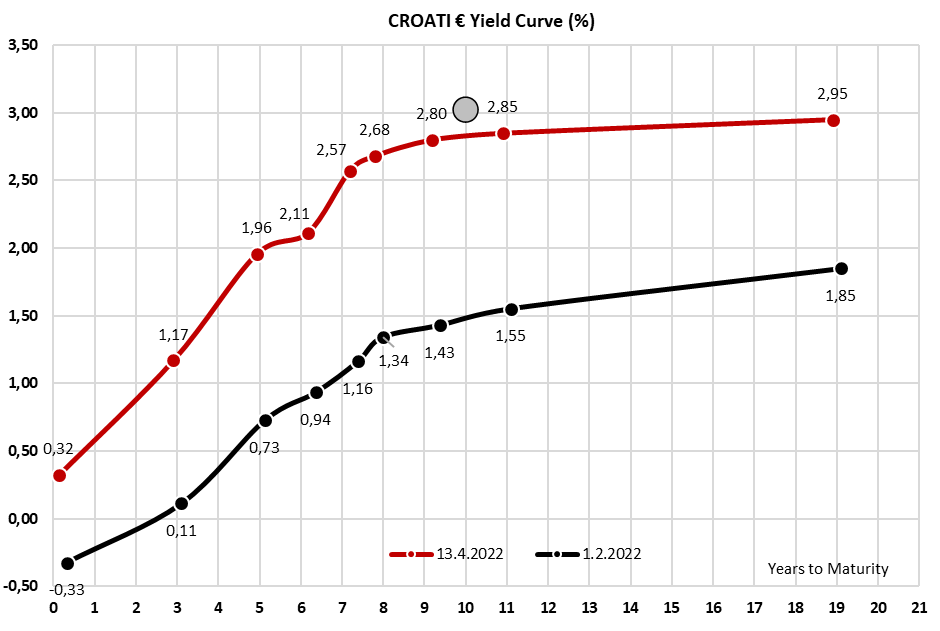 Source: Bloomberg, InterCapital
Adris Proposes HRK 15.5 DPS
At the price before the announcement, the dividend yield for the regular share (ADRS) is 3.37%, while for the preferred share (ADRS2) it amounts to 3.64%.
Adris published their invitation to the General Assembly in which they proposed the distribution of profit from the years 2005 to 2011, in the form of dividends. This would amount to a dividend per share of HRK 15.5 for both the regular and preferred shares.
At the share prices before the announcement, this would amount to a dividend yield of 3.37% for the regular share and 3.64% for the preferred share. The ex-date is set for 14 June 2022, while the payment date is set for 5 July 2022. The proposal is subject to approval by the General Assembly that will be held on 10 June 2022.
In the graphs below, we are bringing you a historical overview of the Company's dividend per share and the dividend yield for both the regular and preferred shares.
Dividend per share (2013 – 2022) (HRK) Dividend Yield (2013 – 2022) (%)
Cinkarna Celje Proposes EUR 21 DPS
At the yesteray's share price dividend yield is 7.2%.
Cinkarna Celje proposed distribution of net profit from the 2021 profit. To be specific, the management proposed EUR 16.4m to be distributed as a dividend, representing a payout ratio of 49.4%. The proposed dividend translates into EUR 21 per share, compared to EUR 17 paid in 2020.
At the current share price dividend yield is 7.2%. Ex-date was not yet announced.
Despite company posting strong net income of EUR 33.3m in 2021, strongly above its estimated profit of EUR 20m the management of decided to propose lower pay-out ratio of 49% instead of its usual 75%. They explain that it is due to the situation in the first quarter of 2022 that is extremely uncertain due to the further deterioration of the situation in supply chains and the consequent rising prices of strategic raw materials and energy sources. They say that they expect volatility to increase significantly, both in the area of product demand and in the area of raw material procurement and that they face great risks in the field of supply of strategic raw materials, where shortages of certain types of raw materials and energy sources are not excluded, which can mean an extraordinary increase in prices or even an inability to supply and the associated risk of stopping production. Regardless of the good first business estimates in the first quarter of 2022, we estimate that it will not be possible to balance the effect of increased purchase prices with a change in sales prices in all periods of the year, so they expect a decrease in realized sales margins.
This dividend proposal is below market consensus published on Finance recently that expected Cinkarna to pay EUR 31 of dividend. Therefore, we can expect counter proposals of any of their shareholders.
In the graphs below, we are bringing you a historical overview of the company's dividend per share and dividend yield.
Dividend per Share (EUR) and Dividend Yield (%) (2012 – 2022)
ZABA Went Ex-date
As a reminder, the shareholders approved at the General Assembly the distributable profit of the entire net profit (99.9%) in the amount of HRK 6.27 per share, representing a dividend yield of 8.83%.
ZABA went ex-date yesterday, which refers to the dividend in the total amount of HRK 6.27 per share. We note that the dividend yield was 8.33% (at the share price a day before the ex-date). The share price decreased yesterday by 6.20%, which is below DY of 8.33%.
As a reminder, the shareholders approved at the General Assembly the distributable profit of the entire net profit.
As a reminder, the Company did not pay any dividends out of its 2020 profit, following the Croatian National Bank's decision on 14 January 2021 on the temporary restriction of distributions for all banks that was valid until 1 October 2021.
Dividend Per Share (HRK) & Dividend Yield (%) (2012 – 2022)
Want to invest? Do not know how and where? Contact us and we will solve everything for you.