The Slovenian Statistical Office published its GDP figures for 2022, showing that in real terms, it increased slightly by 5.4% YoY. At the same time, in Q4 2022, the GDP grew by 0.2% YoY.
In 2022, GDP increased by 5.4% in real terms. Meanwhile, in Q4 2022, the GDP grew by 0.2% YoY. Overall, in the first half of 2022 the majority of GDP components were increasing faster than in the second half of the year. Due to higher growth of imports than exports and worse terms of trade in all four quarters of 2022, the external trade balance was lower than in 2021.
In Q4 2022, domestic consumption increased by 1.2%, household consumption expenditure grew by 2.6% (contributing the most to the overall GDP growth). Gross fixed capital formation increased by 5.9%. Also, the changes in inventories had a negative impact on GDP growth. In the last quarter, both exports and imports went down, which was the first decrease since the 4th quarter of 2020. In total, exports went down by 2.5%, while imports were down 1.5% in Q4. The contribution of the external trade balance to GDP growth was negative (-0.9 p.p.). This trend of negative contributing net exports is likely to continue in 2023, as exports continue to recover due to improvements in the economic situation among Slovenia's main trading partners. As imports will also be supported by consumer confidence and household spending, we expect the trade balance to be neutral to GDP in 2023 and to start contributing positively from 2024.
On the yearly basis, the consumption expenditure and gross capital formation contributed to GDP growth positively. Further, as imports reported higher growth than exports, the worse terms of trade occurred in all four quarters in 2022 with lower external trade compared to FY 2021, amounting to EUR 961m in 2022 (2021 was EUR 3,310m).
GDP by expenditures, constant prices, growth rates (%)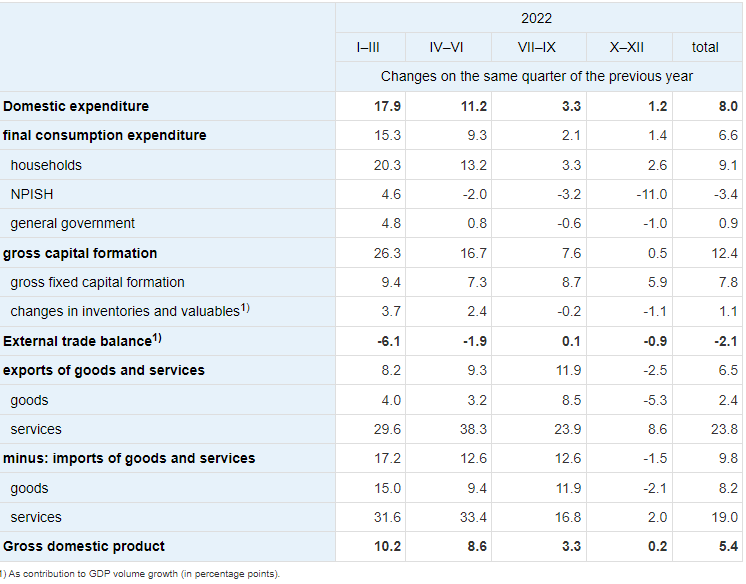 If we were to look at value-added activities, at constant prices, construction, and professional, scientific, technical, administrative and support services activities contributed the most to the total value added. For these activities, the was the first decrease in the last two years.