Over the first 8 months of 2021, net contributions in Slovenian mutual funds reached EUR 315m, which is higher than any (full) year since 2007 (available data).
As of August 2021, Slovenian mutual funds manage EUR 4.05bn, recording an increase for the 10th consecutive month (+3.1% MoM).
Moreover, total AUM of Slovenian UCTIS funds breached the 4bn EUR, reaching their all time high (since available data – June 2007), which also represents 25.2% YTD growth.
Equity Holdings of Slovenian UCITS Funds (EUR bn)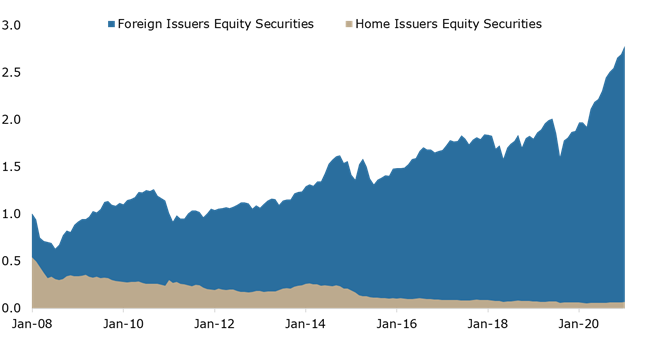 Following a continuous positive trend in net contributions in 2021, August's contribution amounted to EUR 26.71m. Meanwhile, this year's net contributions have reached EUR 315m so far. To put things into perspective, the net contributions seen in H1 2021 already by far surpassed total yearly contributions of every FY since 2007 (available data). In terms of the asset structure, as of August 2021, shares, which account for 70.5% of the total assets (or EUR 2.85bn), observed a slight increase of 3.5% MoM.
Of that, domestic equity holdings amounted to EUR 68.83m, representing an increase of 5% MoM and a drop of 9% when compared to pre-pandemic times (January 2020). However, on a YTD basis, domestic equity holdings are up by 19.1%.
On the other hand, foreign equity holdings have reached EUR 2.78bn and are making up the majority of Slovenian mutual funds. Bonds come second, accounting for 15.6% (or EUR 632.9m), followed by investment funds with 7.7%.
Slovenian Mutual Fund Asset Structure (EUR bn)