Two important lessons were learned last week. First one is that the end of the pandemic is finally visible. The second one is that it's still a bit far on the calendar, scheduled for end 2021, unless there is a breakthrough in distribution of the vaccine. What does all that mean for Croatian eurobonds? Find out in this brief research piece.
On Friday Croatian credit rating moved one step closer to being back in the investment grade bracket, at least according to credit rating agency Moody's. While two other major credit rating agencies have already returned Croatian credit rating back to investment grade status as soon as in March (S&P) or June (Fitch) last year, Moody's waited in order to gain some visibility on the progress of euro adoption and how much the Covid-19 pandemic would affect the overall economy. Speaking about the latter, there's a striking coincidence between the timing of vaccine breakthrough (Pfizer published the news last Monday) and Croatian credit rating upgrade; although the credit rating agency is fully aware of how much tourism affects Croatian economy, it still looks as nothing more than a coincidence. To support this claim, note that other countries reliant on tourist inflows haven't gotten a nod from the rating agency, so it seems that Moddy's is simply improving it's rating on the back of ERM II accession and the availability of EU funds to mitigate the ripple effects of the pandemic.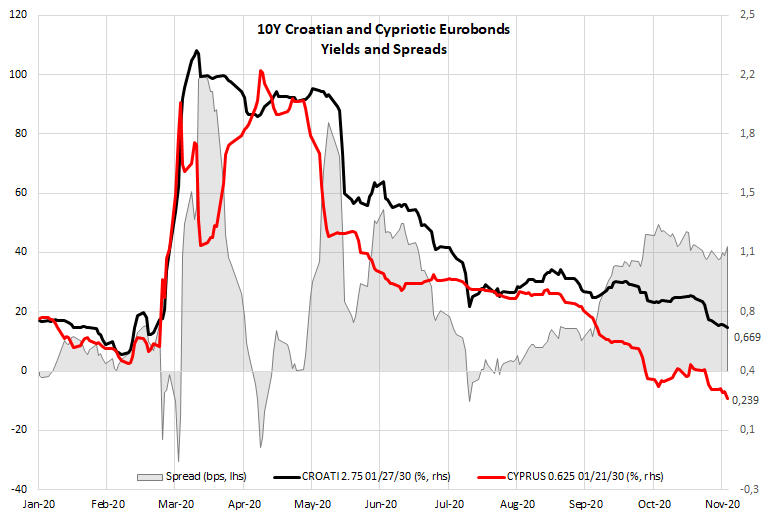 Rating upgrade is definitely good news, but don't expect much from the Eurobond curve because a lot of good things are already priced in. To get a feeling of how Croatian Eurobonds are faring, take a look at the spread between 10Y Croatia (BBB-/BBB-/Ba1) and Cyprus (BBB-/BBB-/Ba2) currently at 42bps and on the path of contracting even further. It's interesting to observe that last week's vaccine news affected safe haven bonds and liquid HY such as Italy which both staged a limited sell off, but illiquid assets such as ROMANI and CROATI were protected from the drop in prices.
That's a bit of a disappointment for accounts that are bullish on CROATI, but were looking for any sell off to upgrade their positions from neutral to overweight.
How come the sell off was so shallow? Well, first of all, ROMANI and CROATI tend to lag the overall environment by a day or two, and it's worth remembering that's exactly how much it took for the markets to shake off reflation fears. Note that by this morning German Bund already paired half of the losses made on Monday/Tuesday. The sell off might have been nothing more than a knee jerk reaction to vaccine news and once the selling pressure subsided, facts such as Republicans keeping the US Senate (making Biden's fiscal job a bit harder than expected) and ECB's PEPP extension on December 10th were once again playing a bigger role in fixed income valuation.
There's also the question of distribution the vaccine. Although phase III of clinical trials confirmed that vaccine submitted by Pfizer/BioNTech called BNT162b2 is effective in 90% cases, the way it protects you from the virus is nothing short of revolutionary and this requires special handling of the vaccine. First of all, this is nothing like injecting weakened viruses in the blood stream so that your immune system can recognize them as foreign bodies. Instead, the vaccine developed by Ugur Sahin and Ozlem Tureci from German firm BioNTech is focused on mRNA giving the immune system instructions to recognize the virus "spike" protein. At the same time this means that the vaccine should be stored at -80°C and can endure only 24 hours on temperatures between -8°C and +2°C. In order to be vaccinated, each person should receive two doses one month apart. This means storing and distributing vaccine might be a bit slower than previously expected. On the other hand, BioNTech already purchased a production facility in Marburg which would be sufficient to lift the annual production to 750 million doses. Together with Pfizer, the couple could produce as much as 1.3 billion doses in a single year, which would be enough to vaccinate 650 million people. You see the point? That's not nearly enough to claim fait accompli by the end of 2021 and that's the reason why health officials around the world are looking for other producers, such as AstraZeneca, J&J etc. First vaccines are expected to be available by the end of January, but it would include a very narrow selection of people, namely elderly and health workers. In Friday's Il Sole 24 Ore Domenico Arcuri, head of Italian anti-pandemic commission, stated that the first doses would arrive in Italy by end of January and would be sufficient to vaccinate about 1.7 million people. This is a good start, but doesn't get Italy Covid-free before summer 2021; possibly not even before end-2021. Speaking about Croatia, the largest quantities of vaccine should be distributed by AstraZanenca (2.7 million doses) and Pfizer (1 million doses) and similarly to Italy the process of vaccination might be prolonged by EOY 2021.
Where does that leave us? The vaccine news by itself is not really a game changing event, at least not in the sense of the word that Covid has now been completely removed as a risk factor from the financial system. However, the end is now near. At this point in time, it's important to start imagining how the post-pandemic world might look like – with public debt at all-time highs, it's really a question can we anticipate any rate hikes in the future without adverse effects on the whole financial system. This means that even with vaccine in the picture, negative interest rates might stay around for longer than you have anticipated.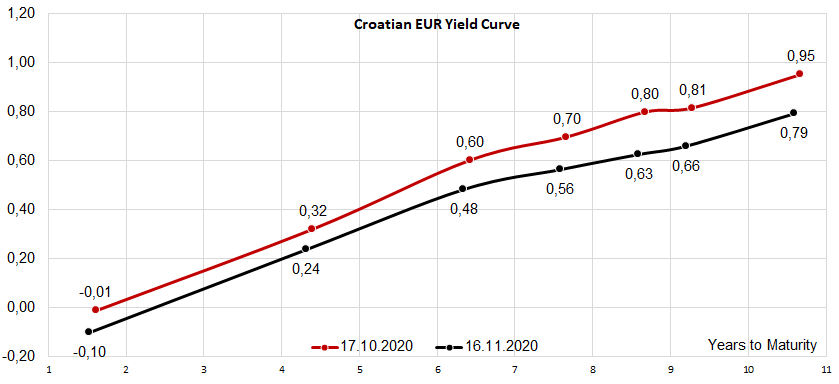 This is actually a good setup for Croatian Eurobond debt and if you're a long term investor, then you haven't completely missed the train. Note that CROATI 2.75 01/27/2030 is still traded at B+129.2bps, while in February 2020 this value was around B+90bps. The biggest value is still on CROATI 1.5 06/17/2031 which is traded at B+137.2bps (one month ago the spread was at B+160bps, as the chart suggests) and might be the top performer of Croatian Eurobond curve in days around ECB meeting. Also, be mindful that Croatia might be placing a new international bond throughout the first couple of months of next year, and this placement might drive a limited sell off coming from accounts seeking to cut their exposure in CROATI 1.5 06/17/2031 for the opportunity to purchase the new paper at bid plus a couple of basis points of NIP.