Croatian public debt continues to shrink as a consequence of soaring nominal GDP. Could this be sufficient for Moody's credit rating upgrade this Friday? Guess we'll have to wait and see…
According to the most recent dana from Eurostat, Croatia is among the thirteen EU Member States that recorded a fiscal surplus last year, albeit in size of merely +0.2% GDP (758mio HRK in absolute terms). EU28 class on average reported a fiscal shortfall in size of -0.6% GDP, and we can say that Croatia is in good company of Denmark (+0.5% GDP fiscal surplus) and Austria (+0.1% GDP) reporting similar figures. It's worth mentioning that Croatian fiscal surplus is somewhat smaller than in 2017 (+0.8% GDP), but then again last year was marked by considerable "one off" giveaways for covering of the government guarantees for the struggling shipyards. Since the guarantees activated last year amounted to some 2.5bio HRK, extracting them from government revenues would give a fiscal surplus in size of +0.85% GDP, a bit better the 2017. A series of fiscal deficits and stable output growth set the path for the public debt to drop from 83.7% GDP (2015) to 74.6% GDP (2018).
When speaking about the public debt and fiscal deficit, there are two things worth considering. First of all, public debt in absolute terms hasn't changed that much compared to 2015: back then the government debt pile stood at 284.4bio HRK, while last year the same figure stood at 284.7bio HRK. The real change comes from rising nominal GDP, which increased from 339.6bio HRK (2015) to 381.8bio HRK (2018), or by 12.4% over the course of four years.
Second of all, about a quarter of the deficit reduction came from government debt being rolled over at lower rates. Back in 2015, the fiscal deficit stood at 10.8bio HRK and government had to pay 11.8bio HRK for interest expenditures. In that year alone the average interest rate paid by the government on it's 284.4bio HRK debt pile amounted to 4.15%; three years later, the average interest rate is down a full percentage point to 3.11% and the government pays 8.9bio HRK of interest expenses. These expenses go down by about 1bio HRK annually as the public debt on maturity gets rolled over. If the current trend continues, by the end of this year we'll probably be watching a 71.5% GDP figure reported as a public debt by the turn of the year and Croatia would be fit to join the euro area by 2023 (it's imperative that the trend continues).
Seasoned traders would not be surprised that the markets didn't react much to the rosy fiscal blueprint; after all, we're still in the midst of holiday trading and turnovers are at their YTD bottoms. Nevertheless, we could see the Croatian yield curves going South regardless of the currency denomination ; if we look more closely, we can see that there was quite some bull flattening under way since the beginning of the year, on the yield and spread curves alike.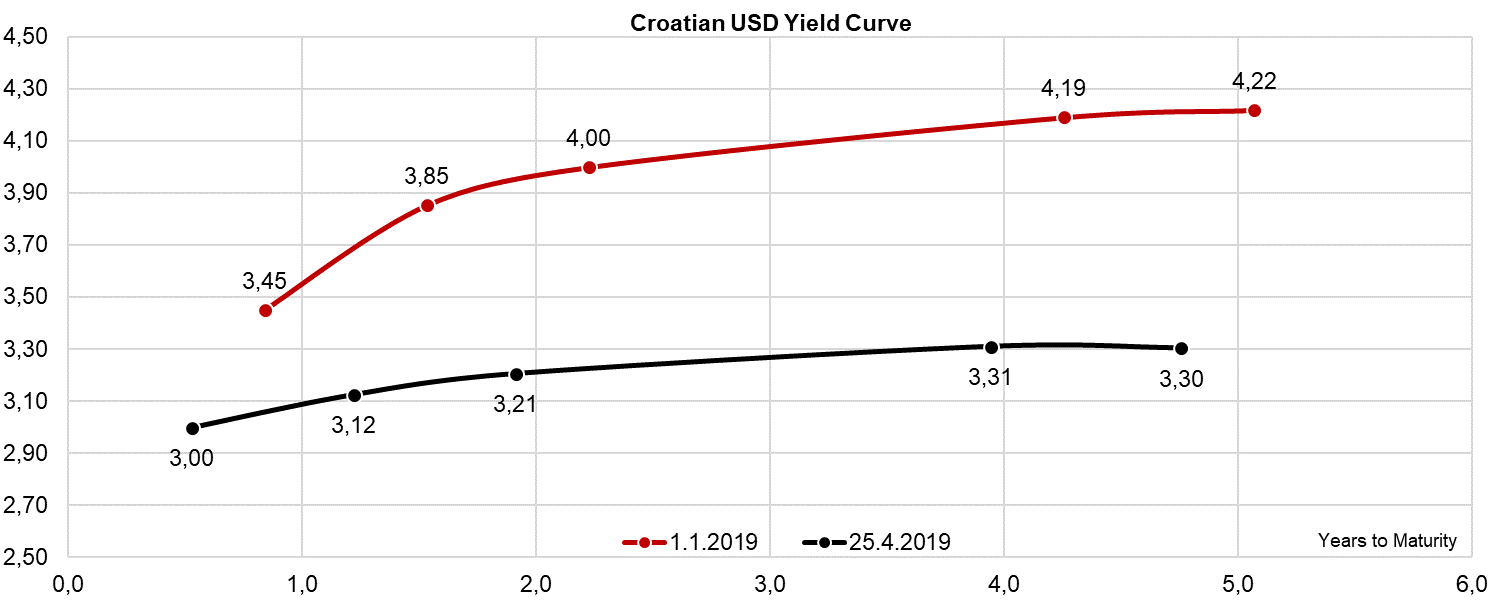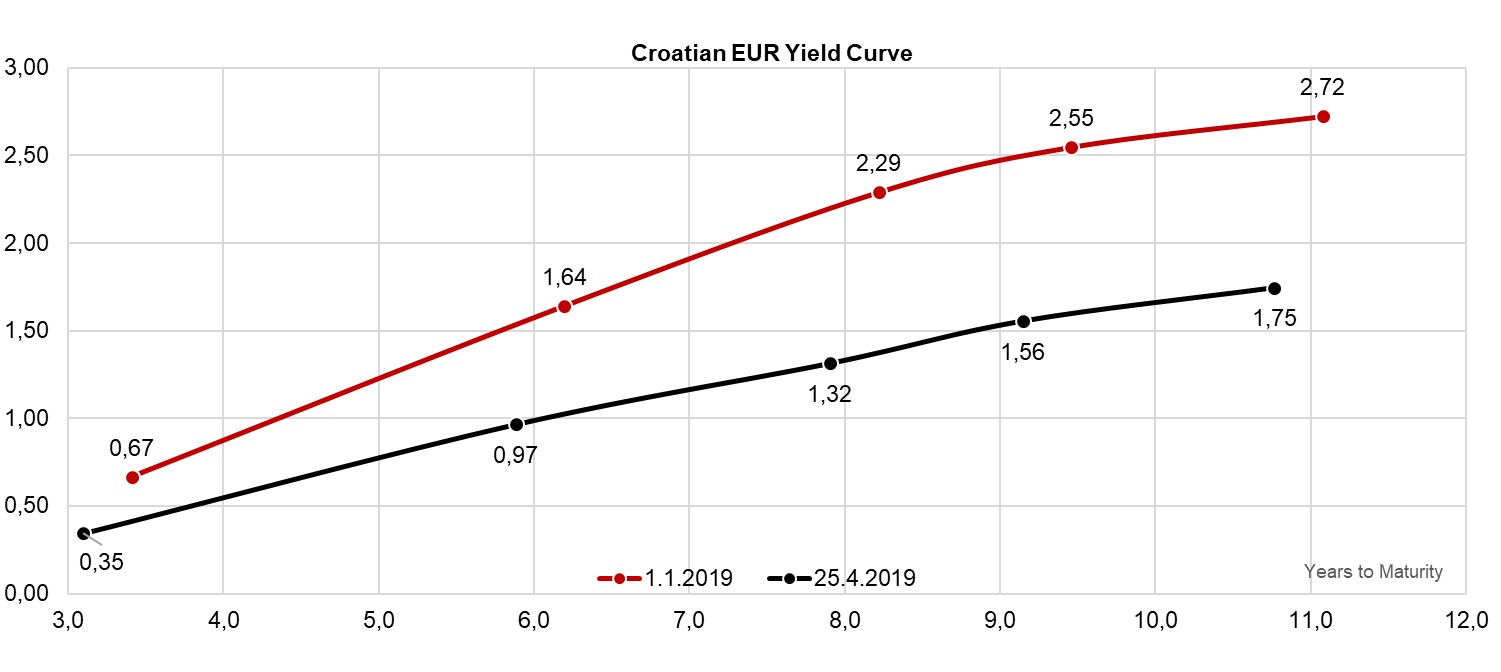 Looking at the spread curves, most of the people in the trenches (i. e. the front office traders) know that the USD spread curve tends to get flat on the longer part, but a quick glance at the Croatian dollar spreads depicts how the risk premium curve actually inverted on CROATIA 2024 USD; the inversion is small in magnitude and might be explained by traders being more inclined to go long on this particular maturity since the US rates might be cut down in the near future in order to spur growth.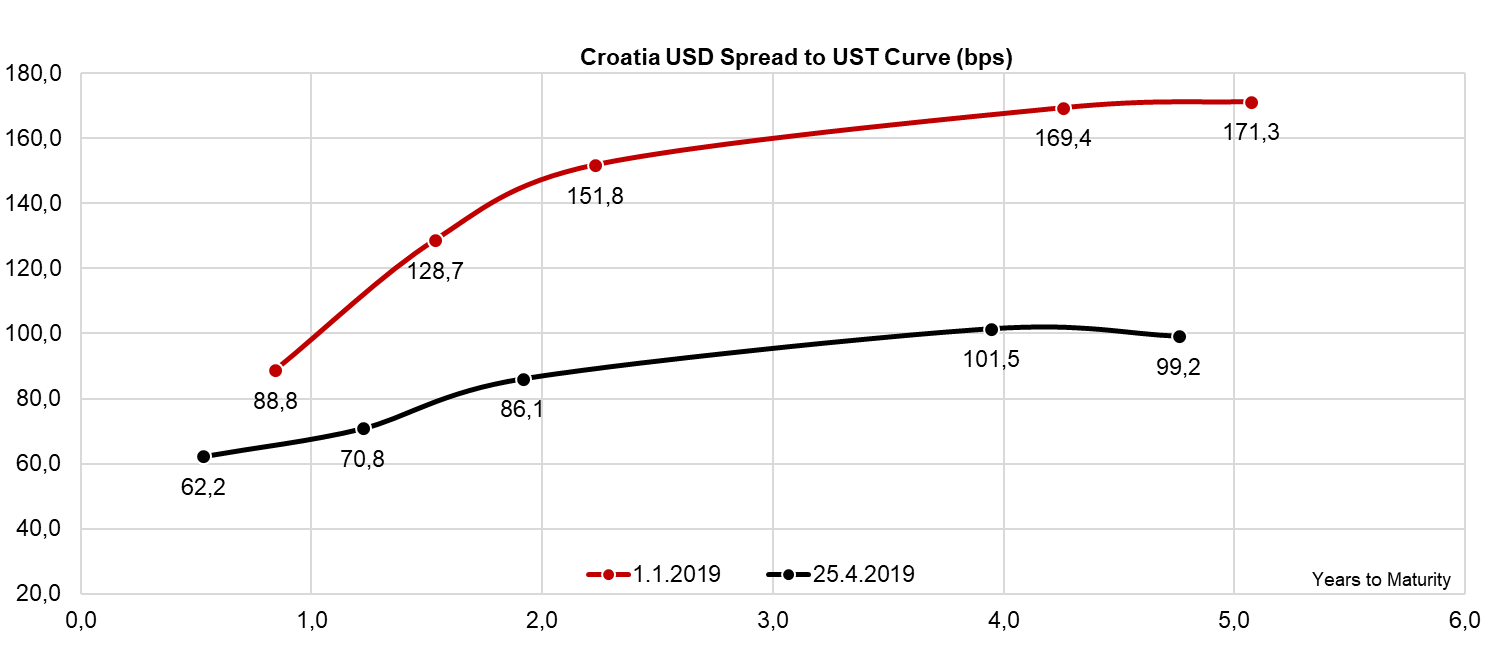 Finally, the EUR spread curve is quite boring, but please note a slight dent on the CROATIA 2027 EUR (the middle of the five dots), which is currently traded @ Germany + 153.3bps; from the risk premium curve perspective, this looks a bit expensive, but then again this particular paper has a relatively large coupon, and consequently higher current return, which might be explain the demand behind it.