Mon Perin Gets Listed on the ZSE
Mon Perin gets listed on the Zagreb Stock Exchange, under the ticker MONP. Trading starts today, 30 March 2022.
Mon Perin, a tourism & hospitality company, which was founded on a basis of developing "social entrepreneurship", that is, having a specific ownership structure and investment strategy for the local community, has taken the next step and listed on the Zagreb Stock Exchange. The Company, which has been the cornerstone of development in the Bale – Valle county in Istria (contributing between 20% – 40% directly or indirectly to the county's budget), currently has over 900 stakeholders.
The Company has done various projects over the years, including the latest EUR 100k in financing archeological research, two new projects, the " Mon Perin Castrum" and "Mon Perin Wind", among others. Thus far, the Company's total investments amounted to HRK 200m in the tourism sector, with a planned HRK 300m in the future, out of which, HRK 56m is already being invested in preparation for the 2022 summer season.
Before the listing, the Company did a capital increase in the amount of HRK 35.5m. In total, the Company's share capital amounts to HRK 106.73m, divided into 10,670,000 shares. The trading of Mon Perin starts today, 30 March 2022, under the ticker MONP. In 2021 the company had HRK 54m sales and HRK 15m net income. majority shareholder with 35% is a legal entity owned by the Cucurin family.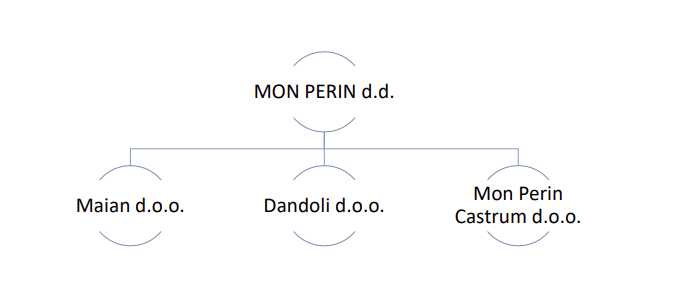 Source: Insertion Prospectus of Mon Perin d.d.

Maian was established in 2013 to manage the Issuer's secondary activities, i.e. managing agricultural land located next to the Mon Perin camp, organizing parking for daily camp visitors and transporting tourists with tourist train for guests and camp visitors.


The company Dandoli d.o.o was founded in 2017 for the purpose of managing catering facilities in the Mon Perin camp and performing wholesale services for other catering facilities in the Municipality of Bale.


Mon Perin Castrum d.o.o. was founded in 2014 to separate the activities of the planned diffused hotel into a new company.

The company has a plan to make in Bali hotel located in a single town, consisting of many buildings close to one another, with unified management that can provide standard services to all guests. The objective is to offer a more friendly, authentic and sustainable form of tourism hospitality.