Bund at Zero, Now What?
Yesterday we saw EUR 10Y benchmark coming to positive territory for the first time since March 2019 while on the other side of the Atlantic USD 10y paper went to almost 1.90%. Rates are under the attack as market repriced hawkishness of central banks and now it expects Fed to hike for more than one full percentage point in 2022. In this article we are looking at the main drivers of the latest rates move and what to expect further.
In the late 2021, Fed's governor Jerome Powell decided that transitory mantra regarding inflation should be shut down and that Fed must become less dovish than it was for the whole 2021. Furthermore, Mr Jerome Powell and his team decided that QE should end before than previously thought which meant that Fed would stop buying treasuries and MBSs in March 2022. However, market was not convinced in their hawkish turn, with market expecting only two or maybe three hikes in 2022 and 10Y yields being at 1.40%. Fast forward to the last week in 2021, Fed published minutes from their last FOMC meeting on which they showed their seriousness in battling with roaring inflation and showed that even quantitative tightening was on the table for 2022. That caught market with a surprise and yields went up at accelerated pace. It did not help that inflation in US in December stood at the highest level in the last 40 years. Two weeks later, US 10Y paper yields 1.88%, highest level since end of 2019. 2Y paper overjumped 1.0% while the biggest milestone came from Fed fund expectations that showed market now expects 4 hikes in 2022. Another interesting thing is that forwards now show more than 25bps increase in March, to be exact it is 28bps, meaning that there are some investors expecting Fed to lift their game and hike rates by more than 25bps in March, just when it closes its QE program. Talking about QE, there are lot of talks now in respect of Fed's giant balance and how could it be decreased. The most vocal narrative now is that Fed will start decreasing it by just maturing the papers but in case inflation does not show signs of decreasing, they could go into outright sell of their assets that would steepen yield curve in case they decide to sell longer part of their portfolio.
Well, we mentioned several milestones on USD yield curve, but the most interesting milestone for us was that yesterday we saw EUR 10Y benchmark (bund, for now) trading above zero yield for the first time since March 2019. It did not last for long as after lunch we once again saw it with minus sign but sure that was something. Looking at the rates it is obvious that EUR benchmark is only following its colleague from US with spread between two of them widening to almost 190bps yesterday. Talking about spread, one should mention ECB which data showed that ECB was heavy buyer of EUR sovereign bonds in the beginning of the year and that it will most likely buy around EUR 80bn worth of bonds in January. Also, we now expect that PEPP envelope will be spent in full until March 2022 when it will end and be replaced with enlarged APP. However, do not exclude restart od PEPP program in some other form in case economy and inflation slow down significantly, but that is not the base scenario of the market right now. Right now, the whole financial world is asking how much could yields go up and when to start buying bonds once again. The other question is how much could rates rise before the main equity indices start bleeding. Well, looking at the Nasdaq excluding FAANG one could say that started long time ago.
So, what to look at in the following period? The main thing to focus is still inflation data around the world and we will be looking for any signs that we saw peak in the pace of price growth. Also, we will be looking at the energy complex which is one of the biggest drivers of prolonged price growth. Furthermore, next week's FOMC could pave the way and show us whether it will be lifting rates already in March. We think that market is prepared for hawkishness from Fed now and any sign of weakness from central bank will most likely be rewarded with lower yields. The same we expect from coming inflation data. One or two things will also be in politics. In case Mr Biden decides to fight inflation like it is his biggest enemy it could force Fed to do a step too much, but we will be able to tell that only in few quarters.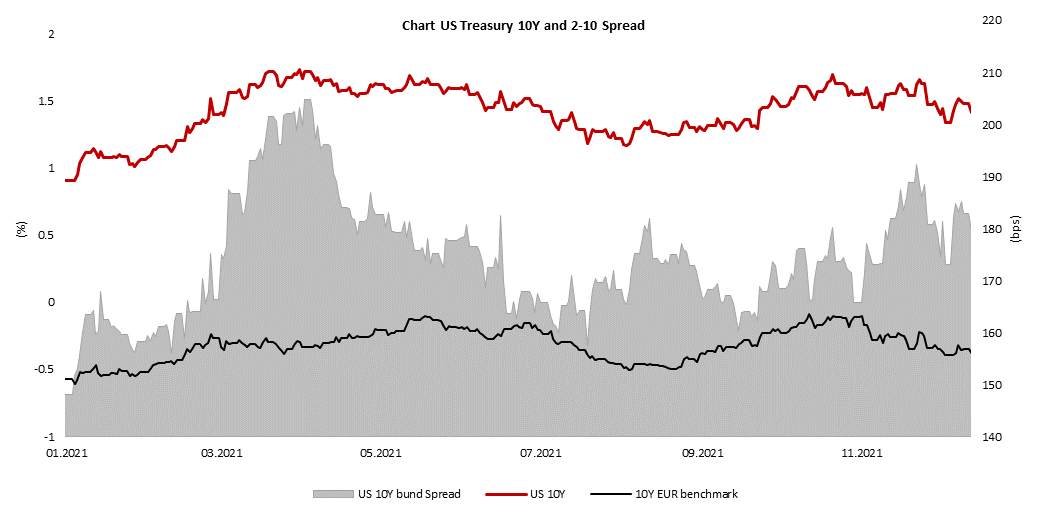 Source: Bloomberg, InterCapital
SPAN Shareholders to Execute Sale of 115k Shares via ABB
Yesterday, SPAN published a document on the Zagreb Stock Exchange announcing an Accelerated book building process for the sale of 115k of existing ordinary shares of their shareholders via InterCapital. SPAN shares were offered via accelerated book building (ABB) in the price range of HRK 210 to HRK 250 per share in the period from 10am Wednesday(19 January) until 10am Thursday(20 January).
In total, this amounts to the maximum transaction value of HRK 28.7m for approximately 6% of SPAN's share capital (excluding treasury shares). In relative terms, such a transaction at mid-pricing would translate into 24.3x P/E and 6.4x EV/EBITDA. Note that the finalizing of transaction and final price is expected to be announced today after 10:00 hours and that the sellers have agreed not to sell any further ordinary shares for the period of 6 months.
When looking at SPAN more closely, the company's share price decreased 2.16% in yesterday's trading session (to HRK 226). As a result, SPAN is currently traded at 23.9x P/E and 6.2x EV/EBITDA.
The announcement and further details of the transaction can be found on Zagreb Stock Exchange page here.
2.275bn Shares of OMV Petrom Sold to Shareholders via ABB
Yesterday, Fondul Proprietatea executed the sale of 2.275bn ordinary shares held by the Fund in OMV Petrom via accelerated bookbuild offering priced at 8.5% discount to the previous closing price.
This transaction also includes a 50% exercise of the upsize option held by the Fund. The shares' selling price was finalized at RON 0.43/share, representing an 8.5% discount to the previous closing price. The gross proceeds of the Transaction amount to RON 980m(app. EUR 200m), and will be used to implement the Fund's Discount Control Mechanism, by funding the buyback program, and the payment of dividends to the Fund's shareholders.
OMV Petrom will not receive any proceeds from the Transaction. The Trade date is set for tomorrow, 21 January 2022, while the Settlement date is set for 26 January 2022. Erste Group Bank and SSIF Swiss Capital acted as Joint Global Coordinators and Joint Bookrunners, and Banca Comercială Română and Auerbach Grayson acted as Joint Bookrunners for the Transactions.
Realized pricing of RON 0.43/share (representing a 8.5% discount from the previous closing price), amounts to an EV/EBITDA ratio of 3.16x and a P/E ratio of 11.38x. To read more about the announcement and get further details of the transaction, click here.
Slovenian Mutual Fund Asset Structure – December 2021
As of December 2021, Slovenian mutual funds have EUR 4.34bn under management, which amounts to an increase of 3.5% MoM or 34% YoY increase.
Slovenian mutual funds have EUR 4.34bn under management as of end of 2021. In 2021 funds have increase for EUR 1bn representing a 34% YoY rise. In 11 out of 12 months in 2021, investment funds have been growing their total AUM (Assets under management). Realized figure of AUM of EUR 4.36bn presents the record since the data is being tracked, namely from June 2007.
Equity Holdings of Slovenian UCITS funds (EUR bn)
Looking over the net contributions in Slovenian mutual funds over 2021, they increased last three months in a row, increasing by 30.2% MoM in December alone to EUR 60.5m, marking the highest monthly net contributions since March 2021, when they stood at EUR 72.8m. When looking at total net contributions in 2021, they amounted to EUR 483.7m. In terms of the asset structure of the funds, as of December 2021, shares amounted to 71.3% of total assets (or EUR 3.09bn), representing a 5.4% increase MoM, and also marking the largest share in total assets they've held since July 2015. Looking at data since the beginning of the year, the percentage of shares in the total amount of assets increased by 2.6 p.p. (from 68.7% to 71.3%).
Net contributions in the Slovenian mutual funds (EUR m)
Of that amount, domestic equity holdings equate to EUR 71.3m, which represents an increase of 1.5% MoM and a decrease of -5.73% when compared to the levels before the COVID-19 pandemic, i.e. January 2021. However, in the entire 2021, domestic equity holdings are up by 23.4% (compared to 21.6% in November 2021). On the other hand, foreign equity holdings amount to EUR 3.02bn, thus making up the majority of the Slovenian mutual funds. The 2nd most held assets are bonds, which make up 15.3% (or EUR 664.3m), followed by investment funds with 7.3% (or EUR 316m), and money market, deposits and cash with 5.8% (or EUR 250.4m)
Total assets of all Slovenian UCITS funds (EUR bn)
Want to invest? Do not know how and where? Contact us and we will solve everything for you.