Support for Populist Parties Gradually Evaporates, as Demonstrated by Elections in Poland and Hungary
Two CEE countries went to the polls on Sunday – Polish voters were casting ballots to form new parliament, while Hungarian voters went to the polls to select new heads of local government. In Poland we didn't see much surprises with incumbent Law and Justice (PiS) party wining (although with less votes than expected), while Hungarian Fidesz lost all of the large urban centers. Also, this week Romanian president named leader of opposition PNL Ludovic Orban to form new government after PSD government lost the confidence vote. In this brief article we are looking at the election results, new policies and potential consequences for markets.
As expected, Polish rightwing Law and Justice assured another term with 43.76% of the ballots cast, in turn securing 235 of the total 460 seats in the Sejm (lower chamber of the bicameral parliament). On the other hand, opposition parties managed to get a hold of Senate, meaning that it would be more difficult for the ruling party to fast track laws into action. Additionally, the ruling PiS doesn't hold the adequate majority to enact constitutional overhauls, a power that raised much controversy in the past four years. It is worth noting that turnout was the second highest since independence as more than 61% people voted. Although PiS won more votes compared to the last elections in 2015, analysts are saying that party is losing some of the momentum, with PiS's leader Jaroslaw Kasciznski being surprised they didn't win two thirds of the vote as he had hoped.
PiS is expected to continue with their loose fiscal policy advocated throughout the campaign. Some of the promises include doubling the minimum wage by 2024, with increase of 15% in both 2020 and 2021, and by additional 10% in the subsequent three years. Furthermore, PiS said that it will provide one or even two additional pension payments (13th and 14th pension) from 2020 or 2021. However, ruling party stated that they plan to deliver a balanced budget in 2020, which wouldn't be an easy feat to accomplish, especially if the German economy continues slowing down. Bearing in mind that monetary policy in Poland still seems accommodative and that real GDP growth stood at strong 4.5% YoY in the first six months, heavy fiscal spending might crowd out private investments and possibly drive prices higher. However, it is still to see whether ruling party is to deliver all the promises.
On the same day a platform of Hungarian opposition parties won the vote for Budapest and other larger cities, delivering the first blow to Fidesz since 2006. The opposition actually won 14 out of 23 urban districts, including Budapest, and won in almost all big cities, while Fidesz still holds power in the countryside. However, the results do not suggest any political instability with parliamentary elections scheduled three years from now. Nevertheless, some political battles are in front of us in the cities and districts but in the central government it's all safe and sound under Victor Orban and we expect it to stay that way. Muted reaction by financial markets confirms this statement. Meanwhile, Romanian government was dismissed last week as no-confidence vote passed in parliament. Before and after the no-confidence vote we witnessed accusations and political fights between ex-PM Viorica Dancila and leaders of opposition parties as it seemed ex-PM that came after Mr Dragnea is not willing to pass its mandate to the opposition. Now it looks like we'll not see snap elections as Mr Iohannis proposed leader of National Liberal Party Ludovic Orban to form the new government which should last until new elections in December 2020. However, in case parliament doesn't approve new government, Romanian president will have to propose alternative candidate and if second candidate is not approved, the road is open for snap elections. Furthermore, president Iohannis stated that he would prefer early elections, but not under PSD's government.
All in all, we'll certainly have several elections in Romania in the next twelve months. Namely, the first one is presidential one that is going to take place on November 10th (which candidate to send on presidential elections was one of the reasons why junior partner ALDE left PSD) while local and legislative elections should take place in May and December 2020, respectively, of course in case snap elections do not kick in. Bearing in mind that last Romanian government had issues with corruption laws that have driven the largest street protests since 90s and that they supported extreme fiscal easing that resulted in large twin deficits, some could presume technical government is not that bad solution after all. That could even attract some buying interest for Romanian assets, although investors should always have an eye on RON which is frequently confronted with depreciation pressures.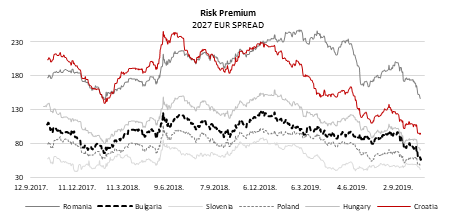 Source: Bloomberg, InterCapital
Very Large Crude Carriers at an All-Time High
Very Large Crude Carriers (VLCCs) reached $300,000 per day last week, which is the highest since December 2007.
On Friday, VLCC earnings on the MEG- East route reached $308,000 per day, which is the highest since september 2007. Such a high increase in rates could be attributed to a couple of factors. Firstly, the COSCO sanctions which have taken out a portion of the tanker fleet.  To put things into a perspective, before the COSCO sanctions, in September, VLCCs earned $35,000 per day.
Besides that, US crude exports which are being driven higher by new pipeline capacity and increased demand for crude. Therefore, US has turned into a gloal net exporter of crude.
Finally, in September Brent Crude surged 10% in a signe day fter a drone strike on a Saudi Arabian oil facility which resulted in a loss of nearly 6% of the global oil output recorded during that weekend. More about it can be read here.
It is also worth mentioning that LR1 and LR2 Product Tankers, which also carry crude are expected to increase the share of crude being shipped. This could potentially lead to a spillover (a rise in price) on MR Product Tankers, due to the lower supply of the LR1 and LR2 Product Tankers.
This is particulary interesting for TNG whose fleet consist of solely MR Tankers.
Want to invest? Do not know how and where? Contact us and we will solve everything for you.