NLB lifts its stake in Komercijalna Bank to 88%
In a statement released on the Stock Exchange yesterday, Komercijalna Banka announced that NLB raised their ownership stake to 88% after the takeover bid issued in March.
NLB published the takeover bid for the remaining 16.77% of KMBN shares and 100% of KMBNPB back in March. The bank issued a takeover bid at RSD 3,315.47 per regular share and RSD 934.72 per pref. share. To put things into a perspective, this translates to EUR 82.5m for the remaining stake in the bank. Such an offer (for regular shares) indicated a slight premium (+2%) to share price at the time. According to the statement, NLB was able to acquire 4.8% of regular shares and 15.3% of preferred shares through the recent acquisition bid. As a result, NLB now holds 88% of Komercijalna Banka's regular shares and 15% of preferred shares. Note that prior to the acquisition NLB held no preferred shares of Komercijalna Banka.
The offer price puts the multiple at a P/B of 0.76x and P/E 19.2x (based on FY 2020 results), implying a valuation of c. EUR 475m for the 100% stake. However, note that the steep multiple is a result of the strong decline in net profit amid the COVID-19 pandemic. When compared to the FY 2019 results the multiples would amount to 0.71x P/B and 6.7x P/E.
Overview of BDI Index Movement
Today we take a look at the recent performance of the BDI Index which has continued its strong recovery after the outbreak of the COVID-19 pandemic.
The Baltic Dry Index or BDI index is a composite of various shipping rates used to transport dry bulk containers on merchant ships. Although the index is useful to determine the demand for dry bulkers, it can also be used as an important economic indicator. Namely, the use of this index as an indicator is a variation on the theme Charles Dow employed a century ago: transportation activity implies future commerce.
A change in the Baltic Dry Index can give investors insight into global supply and demand trends. Many consider a rising or contracting index to be a leading indicator of future economic growth. It's based on raw materials because the demand for them portends the future. These materials are bought to construct and sustain buildings and infrastructure, not at times when buyers have either an excess of materials or are no longer constructing buildings or manufacturing products.
BDI Index Historic Performance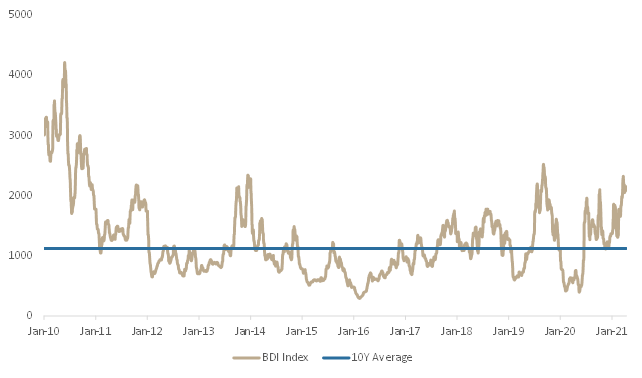 Source: Bloomberg, InterCapital Research
As witnessed from the chart, the BDI index almost hit its decade low in 2020 amid the outbreak of the COVID-19 pandemic as global trade was put on halt. However, as optimism spurred with the introduction of the vaccine, the index successful recovered. Not only that, but the index closed yesterday at 2,145 points which is significantly above the 10-year average of 1,119.97 indicating that demand and future growth is to be expected. One should also note that the BDI index is up 57% YTD, indicating a significant recovery of raw materials demand.
Share Price Performance of Croatian Dry-Bulk Companies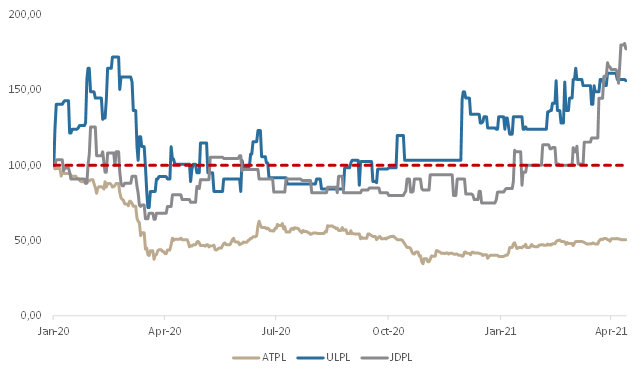 Source: Bloomberg, InterCapital Research
This is also apparent when looking at the share prices of Croatian Dry-Bulkers who showed a strong share price performance in 2021. Namely, the share price of Jadroplov is up 115% YTD, while Atlantska Plovidba soared 28% YTD. Finally, Alpha Adriatic increased 18% YTD. When comparing current share prices to pre COVID-19 levels, two out of three Croatian dry-bulkers have recorded significant prices increases. Namely, when compared to the beginning of 2020, Alpha Adriatic and Jadroplov recorded a share price increase of 77% and 56%, respectively. On the flip side, despite rising 28% in 2021, the share price of Atlantska Plovidba remains -49% below the level seen at the beginning of 2020.
Last Week's Taxable Invoices Up 25% YoY, but still Down 12% Compared to 2019
The value of last week's taxable invoices increased by 25% YoY but are still down 12% compared to the same week in 2019, according to the latest announcement from the Tax Administration of the Republic of Croatia being tracked for Covid-19 pandemic purposes.
A higher frequency data is compiled by Croatian Tax Administration, a department of the Ministry of Finance, who stated that the value of taxable invoices increase by 25.4% YoY (or HRK +597m) in the period from 5 April till 11 April compared to same week last year. Meanwhile total taxable invoices in the mentioned period amounted to HRK 2.9bn. It is important to note that last year in this period Croatia was in total lock-down, while this year a period from 5 April till 11 April was week after Easter (4 April) when spring holidays take place and schools are closed in Croatia and in some neighboring countries. Last year, Easter was one week later on 12 April 2020, but there was basically no hospitality activity as regional lock-down was in place. Comparing the same week of taxable invoices to this period in 2019, the value of invoices in 2021 is still down 11.6% (or HRK -389m). The spending in 2019 could not be connected with Easter as in 2019, Easter holiday was on 21 April 2019, two weeks later comparing to 2021.

Increase in taxable invoices in wholesale and retail trade in the period from 5 April till 11 April 2021 (last week) was at 14% (or HRK +264m) to HRK 2.16bn while accommodation and food services increased 6-fold amounting to HRK 180m (or HRK +150m). Many hotels in Istria and in Kvarner area, the closest driving holiday destination for Western markets, were opened. We also expect to see a surge in domestic overnights as pent-up spending, huge supply of higher-end accommodation and favorable pricing urged domestic guests to book their holiday.

The value of taxable invoices decreased by 12% in period from 5 April till 11 April 2021 compared to preceding week (29 Mar till 4 Apr 2021). Mostly, it was driven by decrease in wholesale and retail trade of 15% while accommodation and food services were up 11%. Relaxation of restrictions in Croatia came in force on March 1st 2021 but lately number of infected and hospitalizations is growing again so restrictive measures were introduced back again. Furthermore, we expect restrictive measures in Croatia to continue thanks to higher numbers of hospitalizations, especially in some areas like Primorje-Gorski Kotar County where they are in force again from 26 March.