Such a pricing implies an equity value of EUR 144.9m for a 100% stake.
Sunce Hoteli published recently a statement that Eagle Hills has signed a SPA with Lucidus and Sunce Ulaganja for the purchase of 4,151,092 of shares, which represents 69.71% of the share capital. Eagle Hills, the new owner of the shares has announced that it is obliged to publish a takeover bid for the remaining shares after passing the respective threshold of 25% according to the Croatian Takeover Act. The Croatian SPV is acting in concert with Eagle Hills, Abu Dhabi, Jaona Investments, Dubai and Mr. Mohamed Ali Rashed Alabbar, Dubai, United Arab Emirates. Mr. Alabbar is managing Eagle Hills Group that is developing real-estate projects of mixed use in total value above EUR 50bn.
Following the announcement, Sunce Hoteli yesterday published another announcement on the Zagreb Stock Exchange where pricing of the transaction is revealed. It stated that LUCIDUS, which holds 1,146,420 shares of Sunce Hoteli representing 19.25% of the share capital, is selling them for price of EUR 27.89m. Such a pricing implies an equity value of EUR 144.9m for a 100% stake, or HRK 183 per share (a premium of 4% compared to the current market price). We note that the price puts the transaction multiple at EV/EBITDA of 15.9x. However, the aforementioned multiple does not accurately represents the acquisition given that the company does not consolidate their JV (Jadran Hotel Tučepi) and land for a development project on Brač island.
As a reminder, back in September of 2017, the company concluded a cap hike at HRK 155 per share.
In the table below you can find takeover multiples of some Croatian tourists in the recent history.
Croatian Tourists – Takeover Multiples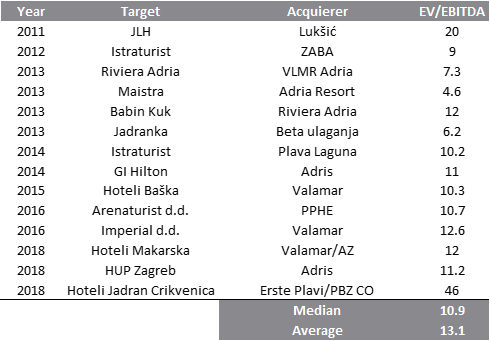 Source: InterCapital Research