The final household consumption expenditure decreased by 1.1% (the first quarter for this line to note a decrease!). Further, looking at the mentioned household consumption, it is worth adding that the 1.1% decline is in line with already seen trends, where growth in the previous quarters has already started to decline– as the previous quarters noted a 3.3%, 2.6% and 2.1% growth in this category, respectively.
Household consumption was down in Q2 in line with our expectations, as inflation keeps pressuring on disposable income while savings are melting away. We think that household spending will be close, but above zero level in 2023 and around 3% in 2024 when inflation comes back to more normal levels. Gross fixed capital formation noted a solid single-digit growth of 9.3% (+3.3 p.p. compared to the previous quarter). The changes in inventories had a negative impact on GDP growth. However, the external trade balance contributed by as much as 6.7 p.p. to GDP growth, which completely offset lower domestic expenditure. In total, exports went down by 0.7%, while imports decreased much more pronounced by 8.3% in Q2. The decrease in total exports was driven both by lower export of services (-2.6% YoY) and export of goods (-0.3% YoY) amplifying the overall export decrease. Overall, the external trade balance on services was positive for the fifth consecutive quarter, while the external trade balance on goods return to the negative territory (only the previous quarter in the last two years was an exception). In total, everything abovementioned resulted in 1.4% YoY growth in the total Slovenian GDP.
GDP by expenditures, constant prices, growth rates (%)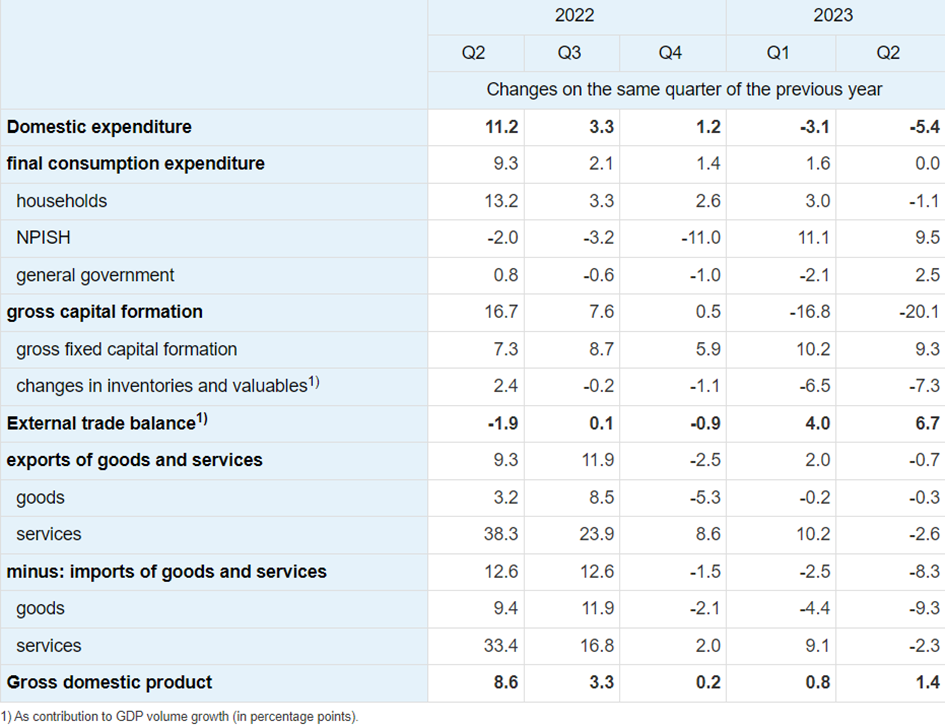 Source: SURS, InterCapital Research
If we were to look at value-added activities at constant prices, construction, Other service activities and Financial & insurance activities contributed the most to the total value added. For these activities, growth in the mentioned value added represent a continuation of a positive trend regarding its contribution to the total GDP.
Besides GDP and values added, the Slovenian statistical office also commented on the Slovenian employment rate trend. During Q2, total employment amounted to 1,093,200 persons, which represents an increase of 1.2% compared to the previous quarter. Most new jobs were created in construction.