For 2021 the Group plans to generate more than EUR 685m in operating revenue a net profit above EUR 53m, which translates into a planned ROE of at least 11.5%.
Earlier today, Sava Insurance Group published their 2021 business plan. The management board believes that, given the impacts of the Covid-19 pandemic, the business plan is ambitious and has considered all key aspects required to support the Group's sustainable long-term development, risk management and appropriate profit generation.
The Group's operating revenue is planned to exceed EUR 685m in 2021, growing at a rate of approximately 5% in the Group's strategic markets. In Slovenia, the Group is planning 2% growth in gross non-life insurance premiums, taking into account the expected slowdown in car sales and longer economic recovery from Covid-19. Gross life insurance premiums written in Slovenia are expected to grow by 23%, reflecting the FY inclusion of the life insurer Vita in the Group.
The Group's non-life insurers outside Slovenia are planning their GWPs to grow by 8%. This increase mostly relates to the motor insurance business, in which companies wrote less in premiums in 2020 than planned due to Covid-19 impacts, whereas less of such adverse impact on premium volume is expected in 2021.
The Group's life insurers outside Slovenia are also planning their GWPs to grow by 8%. In 2021, product and service development will mainly focus on preparing adaptable risk products tailored to selected customer groups and specific distribution channels.
The reinsurance segment expects GWPs to grow by 1% in 2021. The lower growth rate reflects more selective reinsurance underwriting focused on profitability, with steps taken towards de-risking the portfolio and further diversifying it in terms of regions and partners.
Sava Re 2021 Business Plan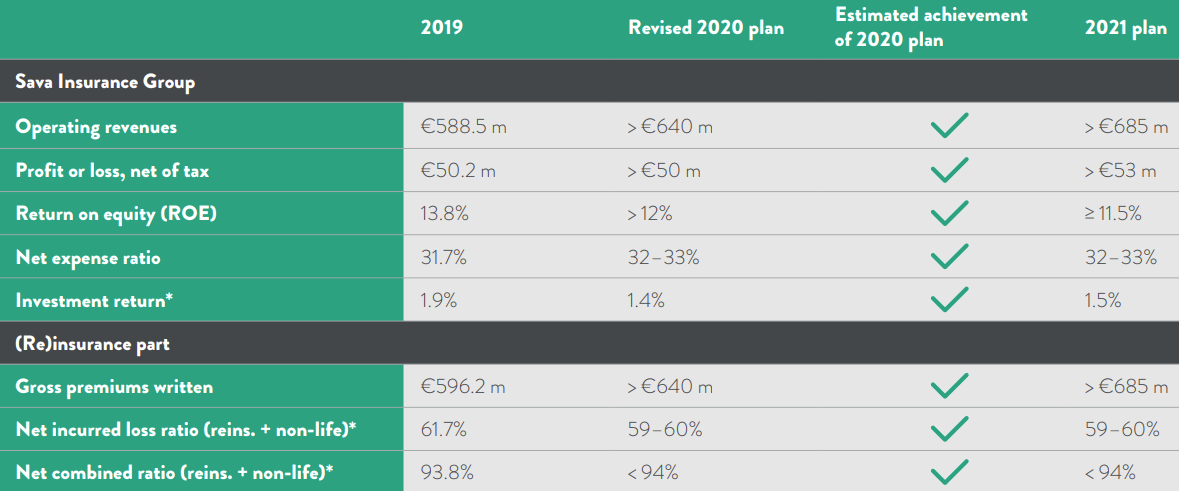 Source: Sava Insurance Group
The key goals of the investment policy in 2021 remain maintaining low volatility and a high level of security of invested insurance contract assets, as well as to ensure high liquidity and risk diversification. The management expects that returns on financial investments will continue to be affected by low interest rates, which is why the planned rate of return is 1.5%. The investment portfolio structure will also remain relatively conservative in 2021, with a high share of bonds and other fixed-rate investments and a high credit rating profile, but with a slightly higher allocation to infrastructure and real-estate funds, and infrastructure debt.
We are happy to see a relatively ambitious target by the management, which is somewhat above our estimates for 2021.