Luka Koper has published its preliminary revenue and throughput numbers for 2021, generating a revenue of EUR 224.6m (+9% YoY).
In 2021, Luka Koper has been affected by the recovery and strengthening of economic activity across the globe. This resulted in a maritime throughput reaching 20.8m tonnes, a 7% increase YoY. The company also reports higher throughput of strategic cargo groups containers, cars, as well as dry bulk cargo compared to 2020, which the Company achieved despite the difficult business environment due to the pandemic and supply chain disruptions.
The company also announced that they achieved an annual throughput record in the container segments, with more than 997k TEU (twenty feet equivalent) units handled in the port. On the flip side, the situation in the car market in 2021 was not only affected by the pandemic but also the semiconductor and other component shortages, which caused delays in car production (and consequently, shipping). Even so, the company reported app. 1.09m car shipments handled an increase of 10% over 2020.
Liquid bulk cargo remained at app. the same level as 2020 (app. 3.33m in 2021 compared to app. 3.32m in 2020) due to the decreased demand for air passenger traffic and lower volume of petroleum products throughput. At the same time, dry bulk cargos managed to increase by 12% (from app. 4.98m to 5.56m), and this result was achieved despite the PanEuropean green policy, which calls for reduction of coal consumption (one of the main components of dry bulk cargo) in order to reduce the CO2 emissions.
Even so, with all the aforementioned obstacles, Luka Koper managed to achieve a sales revenue of EUR 224.6m, an increase of 9% YoY from 2020's EUR 206.4m. It should be noted, however, that this number is based on preliminary data, and is subject to change.
Sales revenue, throughput numbers for Luka Koper, 2021 (EUR)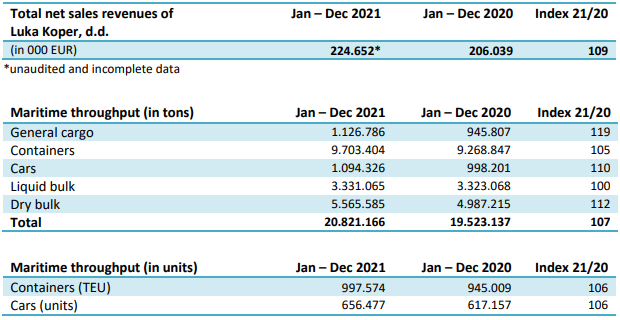 Source: Luka Koper