US February CPI release and ECB's monetary policy meeting were two most important events this week. It seems both events reversed some of rate sell-off that we have seen for the last few weeks. US CPI for February landed right at the expectations while ECB announced it will step up its PEPP purchases.
One of the most scrutinized trades this year has been reflation trade. As economy in US is opening at a faster pace than previously considered and US government seems to be eager to propel demand to the sky investors started to worry whether inflation could rise significantly. In February this was still not the case as data showed that CPI stood at 1.7% YoY (versus 1.4% in January), exactly the level analysts expected. Obviously, headline inflation was driven by rise of energy prices which rose by 3.9% MoM. However, core inflation stood at 'only' 1.3% YoY, reflecting decrease from 1.6% and 1.4% in December 2020 and January 2021, respectively. It is clear that base effects of corona still did not kick in as economy and prices witnessed sharp drop only in March last year so effect should be much stronger next month. Furthermore, US vaccination process accelerates while corona cases are falling rapidly, meaning that some of the states could start opening completely as Texas already did last week. Oil prices being almost double compared to the levels seen last year in March, giant savings, fiscal stimulus of USD 1.9tr are only some of the factors that should ensure inflation in US to jump above 2.0% at least and we would not exclude above 3.0% levels. At the same time, we could see core inflation rising also, driven by service sector.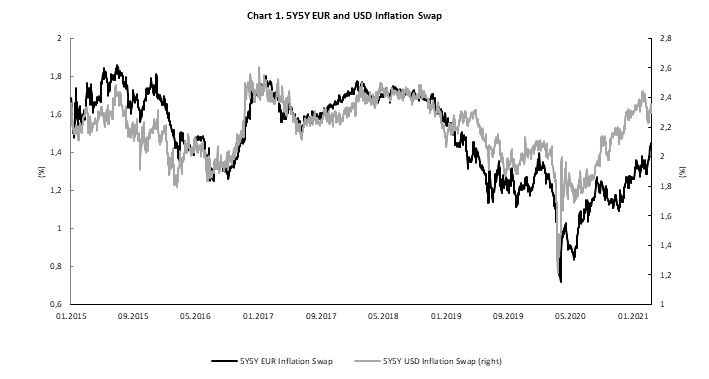 Source: Bloomberg, InterCapital
Talking about inflation, one could not look at the yields that are the hottest theme right now among investors and analysts. February CPI of 1.7% did not surprise investors as expectations stood at 1.7% and result was slight fall in yields showing that investors were prepared for slightly higher CPI level. US 10Y treasury yield fell from 1.60% levels to 1.55% after the press release and fell further below 1.50% yesterday before ECB's meeting.
On the other hand, ECB did manage to surprise investors, after announcing that "the Governing Council expects purchases under the PEPP over the next quarter to be conducted at a significantly higher pace than during the first months of the year". It seems market expected ECB only to talk about the flexibility of its PEPP buying rather than putting this into statement which is a confirmation of their dovishness that was questioned in the last few weeks after some mixed messages from ECB officials. In all the other parts, ECB's statement was the same as last month, leaving rates unchanged, highlighting their favorable TLRO III, APP and saying that PEPP envelope could be enlarged if needed. After the statement, Ms Lagarde said that ECB does not have any particular number in mind in respect of "significantly higher pace.." leaving central bank with much flexibility although there were some questions on the market whether this was only talk once again. Last few weeks we have seen some verbal intervention from ECB's officials although PEPP data showed that they did not increase their weekly buying. However, in the next following months situation should be different (not to derail their credibility) which should be visible in their weekly PEPP, but first increased buying should be seen only next Monday (March 22nd).
In any case, yesterday's ECB statement shows that ECB is firm in their intention to keep yield curves lower for longer using its PEPP envelope which could of course be enlarged in case needed, although they do not want to name it yield curve control. Looking at the economic performance in euro area and US, it is clear that ECB's decision was rather reasonable as GDP gap seems to be quite bigger on this side of the Atlantic while vaccine process is nowhere near US. Furthermore, fiscal policies are quite different which is most likely to result in much larger inflation in US, while in eurozone inflation could be only transitory which was one of the statements by Ms Lagarde.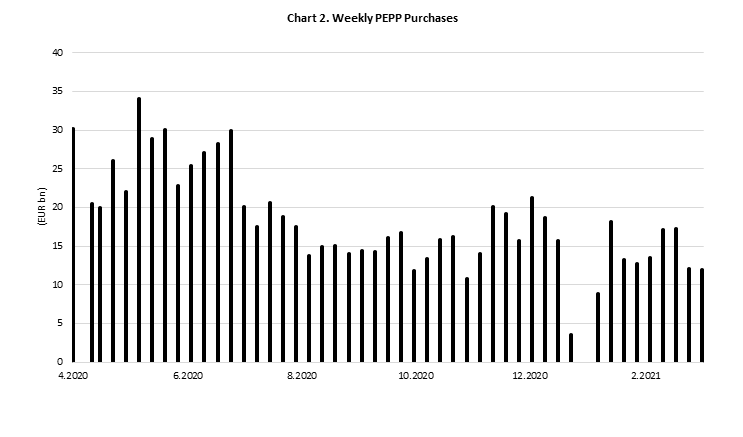 Source: ECB, InterCapital