After the final member of the Romanian BET index published their H1 2021 results we bring you an overview of the top line, EBITDA and bottom-line performance of all index components.
Top Line Development of BET Components in H1 2021 (%)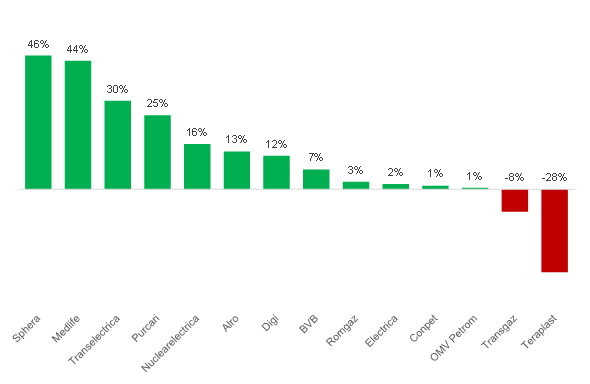 When observing the top line performance of BET components, the two clear leaders are Sphera and Medlife with sales in H1 increasing by more than 40%. Sphera's strong sales growth came because of relaxing epidemiological measures which made restaurant operations easier to conduct. Note that this also translated to a higher EBITDA which, in Sphera's case soared 39-fold. Meanwhile, Medlife's sales increased 44% YoY, led by a significant growth in all business lines, as well as by acquisitions completed by the group so far this year. Higher sales translated down the P&L, leading to a 93% YoY increase in EBITDA, and a nearly seven-fold jump in net profit.
Electrica's top lineincreased by 2% as higher revenues from the supply segment were somewhat offset by the decrease of the distribution segment's revenues. EBITDA fell -26% YoY, amounting to RON 357.1m. The main reason behind the drop lies in the increase of electricity costs on the supply segment, coupled with an increase in the electricity costs needed to cover NL and in the GC purchase costs, the latter having no impact on the result. Net profit was down -60%, further hurt by a deteriorating net financial result.
EBITDA Development of BET Components in H1 2021 (%)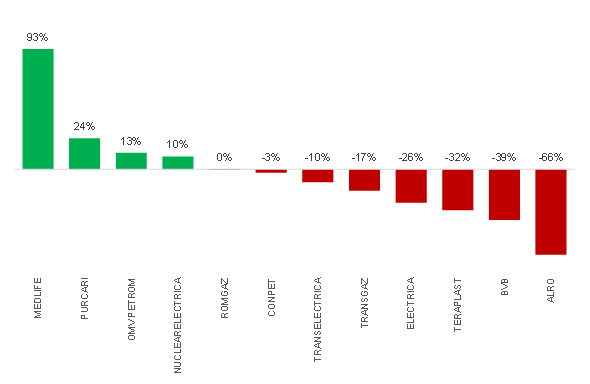 Transelectrica's revenues increased by 30 % YoY mainly due to the increase in the amount of electricity delivered to consumers, the increase in the average transport tariff and the increase in revenues from the balancing market.
Purcari's sales increased by 25% YoY fuelled by a strong performance in core markets. EBITDA was up due to higher sales, which were somewhat offset by higher G&A expenses (+34.6% YoY), mainly due to salaries increase. As a result, Purcari's net profit amounted to RON 20.4m (+30.8% YoY).
On the flip side, leading the laggards in EBITDA was Alro whose result was greatly influenced by the rising electricity prices has a significant share in the company's production costs.
Bottom Line Development of BET Components in H1 2021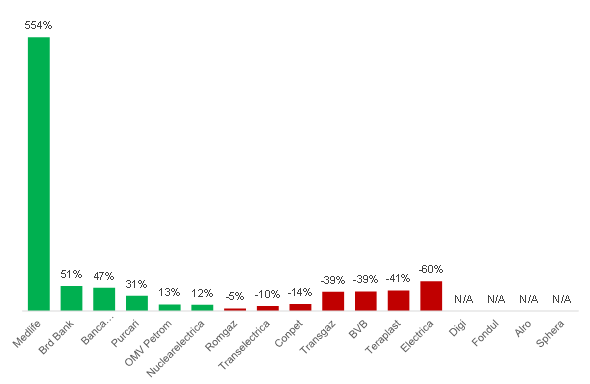 Fondul Proprietatea managed to turn last year's net loss of RON 848m into a net profit of RON 1,801m. The main contributor to the profit was the net unrealised gain from equity investments at fair value through profit or loss, generated by the rising price of OMV Petrom's shares. Furthermore, Net profit was also boosted by an increase in the value of unlisted holdings in the fund's portfolio following the valuation update process (this can mainly be attributed to Hidroelectrica).
Banca Transilvania's net interest income amounted to RON 1,529m, representing a 5.2% YoY increase, driven by lower interest expense. Meanwhile net fees and commissions amounted to RON 446.9m (+27.0% YoY). Moving further down the P&L, operating expenses are down -4.2% YoY, standing at RON 1,245m. The drop in expenses came from lower impairments which were sliced in half to RON 113m (-50.7% YoY). As a result, net profit amounted to RON 1,015.5m (+47.2% YoY).