This week Croatian Ministry of Finance issued EUR 1bn of EUR-pegged 8Y paper on the local market at yield of 1.39%. Bid to cover stood at 1.42 while the amount will be mostly used to finance two maturing bonds, RHMF-O-222A and RHMF-O-222E. More details on the issuance and world rates find in this brief article.
Looking at the details of the deal, the first indication on yield was a range of only 2bps, from 1.39% to 1.41% and that did not change until the very end. The final yield was set at 1.39% which compared to the bid levels of EUR Eurobond CROATI 2030 seemed a bit cheap. RHMF-O-302E (FX-pegged, payable in HRK) has a coupon of 1.25% meaning that it was issued at discount i.e., the price of 98.943 and today is its first trading day on the secondary market. However, there is still FX component of the issuance that we do not know as CNB's EURHRK mid-level on the date of settlement will be applicable (February 4th). Going further, it is important to mention that paper which matures on Saturday, RHMF-O-222E (EUR 500m) was issued at yield of 0.685% while RHMF-O-222A (HRK 3bn) was issued at 2.29%, resulting in an aggregated cost of debt maturing at 1.39%. We must add here that out of HRK 3bn and EUR 500m maturing, Croatian National Bank holds almost HRK 1bn and 65m EUR which central bank did not reinvest in the new paper, same as it did in July 2021. To sum, EUR 900m matures with 200m being at the central bank, institutional investors increased their exposure to the government by some EUR 300m. We still do not have a detailed breakdown of holders, but the summary showed that most of the issuance went to banks (52%) and pension funds (39%) while investment funds bought took only 3% of the issuance. Knowing the local market, most of the paper will go to HTC part of the portfolios while we do not expect to see much trading of the rest. Considering EURHRK, the market longed EUR 550m this week through the paper but we did not see an increase in volatility in any direction.
The last time the Croatian Ministry of Finance was on the market was in the summer of 2021, issuing HRK 7Y paper RHMF-O-287A to refinance maturing RHMF-O-217A. Back then, Croatia placed HRK 9bn (EUR 1.2bn) at 0.533%, with more than HRK 18bn in orderbooks. EUR 10Y paper stood at -20bp. This week, the Croatian government placed EUR 1bn of 8Y bond at 1.39% with some EUR 1.4bn in orderbooks. 10Y EUR benchmark stood at couple basis above zero. So, what happened in only half a year period?
As we are all aware, inflation is theme number one in the whole world while the second theme are central banks and their potential aggressive tightening. The story accelerated after the summer of 2021 and bonds once again have become investors' enemy number 1 and that lasted until this day. Just look at yesterday's EA CPI. Namely, eurozone's headline CPI landed at 5.0% in January versus 4.4% being expected by the consensus. Core inflation stood at 2.3% YoY, which was below December's levels but still fell less than expected. Considering strong energy complex and already very hawkish Fed, market continues increasing their forecasts on EUR interest rates and now December 2022 Euribor futures points at 25bps hikes until the end of the year. Also, to bear in mind, German 2Y paper this week increased above -50bps and reached highest levels in 6 years, while bund reached almost 5bps yesterday. Today, we will hear from ECB about its monetary policy and Lagarde will have a tough job in defending the current ECB's view. The market is surely prepared for ECB to change its stance and start lifting already this year, but the real question is whether ECB is ready to completely change its rhetoric as Fed did last year. We find out in a few hours.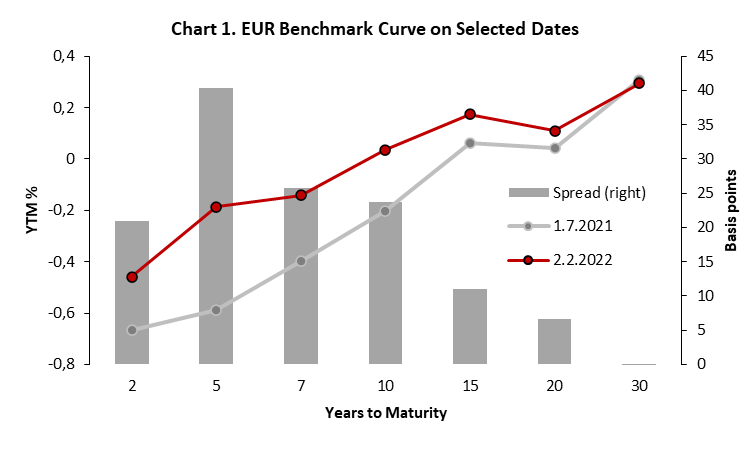 Source: Bloomberg, InterCapital