InterCapital remains dedicated to making investments into the region more attractive by supporting transparency and liquidity, and we thank our partners for supporting us in achieving this goal.
We are proud to announce that Krka and Triglav have renewed their Market Making agreements with InterCapital Securities.
Being a market maker means that InterCapital will continuously put both bid (buy) and ask (sell) orders on KRKG and ZVTG shares at a pre-defined spread. The idea is to enable investors to buy or sell the shares (up to a certain size) at any time within a reasonable volatility range.
In 2019, InterCapital reignited market making in Slovenia after 10 years, and currently provides the mentioned services to 5 Slovenian blue chips: Krka, Triglav, Petrol, Telekom Slovenije and Sava Re.
Besides that, InterCapital is already an established market maker in Croatia, covering 8 blue-chip companies, all part of the CROBEX index and 2 ETFs. According to our experience, the service accounts for a significant portion of the shares' total turnover. We are proud of having earned the trust of both companies and will do our best to continue providing the best service possible.
The importance of market making can be witnessed in the graphs below, which show a reduction of the bid/ask spread and intraday volatility of one Slovenian blue chip since the engagement of InterCapital as a market maker. As visible from the graph, InterCapital successfully reduced both of the above-mentioned parameters, despite the selloff in 2020 caused by the outbreak of the pandemic.
To read more about the importance of market making click here.
Effects of Market Making – Reduction of Bid/Ask Spread on a Slovenian Blue Chip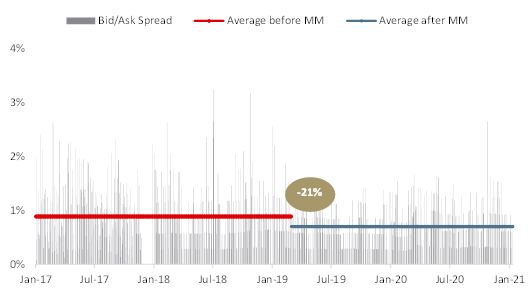 Effects of Market Making – Reduction of Intraday Volatility on a Slovenian Blue Chip