Have You ever heard of a bird that has a head of a dove, but the body and a tail of hawk? This rare species has been spotted last week in Frankfurt at a time of ECB's Monetary Policy Meeting, as well as yesterday in Washington while FED's rate setting committee (the FOMC) delivered it's verdict on FED fund rates. The rates were cut by 25bps, as expected, but the overall reaction wasn't mixed – it was muted as financial markets don't really know what to make of this rare bird's song. What can we expect of this bird in October? Find out in this brief research piece…
Yesterday's FOMC brought about a well anticipated 25bps cut in FED fund target rate to 1.75%-2.00%, however dissent among the members was quite evident. Out of seventeen members of the committee, five were opposed to any rate cuts at all before at least turn of the year. The compact majority of twelve members remain divided over whether to cut the interest rate target band even further, or say that the actions taken so far are sufficient to keep the economy humming. As a matter of fact, only seven out of seventeen members favour cutting the target band by another quarter of a percentage point by the turn of the year, and it's not clear whether this will happen in October (30th October meeting) or December (11th December meeting).
In other words, ten out of seventeen members of the FOMC say either that the rate cuts conducted so far should be sufficient, or that yesterday's rate cut was a mistake. Since Chairman Powell said that "it's better to be proactive" and that it would be a "mistake to hold on to your firepower", it's reasonable to assume that the FOMC would be inclined to cut rates in October, rather than wait for December meeting. This is exactly what the FED fund futures are telling us if You take a glance at the FED fund futures chart submitted below. Looking at 2020, the committee seems to be divided over whether to deliver additional rate cut, or to do nothing at all. It seems that the leadership of the FOMC concentrated around Chairman Powell is inclined to stimulate the economy through successive rate cuts, but the remainder of the committee thinks it's too early for the introduction of accommodative monetary policy, especially since the committee hasn't downgraded it's expectation of output growth in 2020.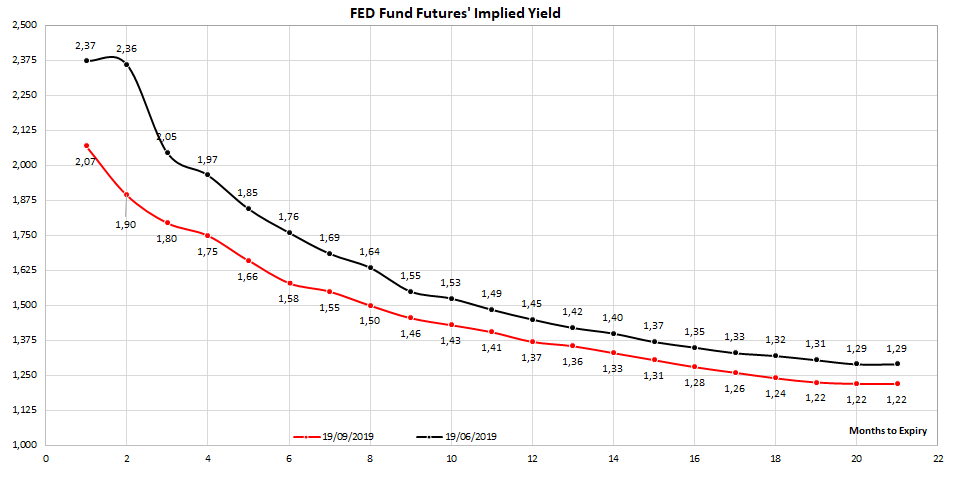 To sum it all up, if FED were a bird, it would have a head of a dove, but the body of a hawk and the resemblance to ECB's Governing Council is quite striking. The market reaction to this rare bird's song was muted: bonds staged a contained rally because the divided committee means we might be merely one rate cut away from "wait and see mode"; the markets were expecting more promises being made, which is the reason why equities slumped and dollar made a small rally versus a basket of currencies.
The other major question is concerned about the new round of QE. The recent spike in USD funding costs that is being mitigated by NY FED's repurchase arrangements was fathered by a combination of corporate tax payments and short-term treasury bill auctions. Speaking about the latter, it's worth mentioning that US federal budget deficit reached 1.07 trillion USD in the first eleven months of the current fiscal year, up by +19% compared to the same period the year before. Expanded government borrowing coincided with end-year tax payments and brought about a funding squeeze, which is likely to be mitigated by November when the FED would activate it's asset purchase program. Chairman Powell mentioned that the details about the new round of QE would be discussed on October meeting, so it seems that we would just have to hold our breath until then.

Croatian USD-denominated international bonds delivered substantial yield compression compared to the last FOMC meeting after which the DOTS report was delivered (June 19th). The curve is still inverted until CROATIA 2024 USD in an anticipation of further rate cuts along the way. After yesterday's FOMC, we'll just have to get more conviction either from US economic data that the recession might be under way, or the FOMC members that they're determined to cut rates to sustain the expansion.