When sovereign yields in Europe exploded in mid – March, ECB came to the rescue with large PEPP programme and pushed yields south. Now, heads of EU countries cannot agree on stimulus package, forcing periphery spreads close to March levels once again. Today all eyes will be on European Council video meeting despite we do not expect to see final deal today, meaning that ECB could stay in this game alone for a bit more.
Before going to the main subject today, let us just say that yesterday Eurostat published debt and deficit data for EU countries in 2019 showing that in the end of last year, EU27 budget deficit stood at only 0.6% of GDP, meaning that debt as share of GDP fell to 77.8%. In euro area deficit also stood at 0.6% while debt to GDP ratio was at 84.1%, down from 85.8% year earlier. Croatia posted its third surplus in a row (0.4% of GDP), leading its debt to GDP to 73.2%, its lowest level since 2012. However, balanced budgets or even surpluses now look like a dream which leads us to our today's theme.
President of European Council, Mr Charles Michel has invited all EU countries on its 4th videoconference that will take stage today on which EU leaders should discuss further help for the economy that is going to see dip which has not been seen since GFC. Last plan that fell short of expectations provided on April 9th stood at EUR 540bn out of which EUR 240bn was from ESM, 200bn was from EIB and EUR 100bn from EC. However, most of the periphery countries did not agree with the package saying that debt should be mutualized which would grant much larger package in amount of EUR 1.500bn (more than 10% of GDP). As Germany, Austria and Netherlands opposed, challenges with fiscal stimulus continues and there is not any homogenous proposal at the table, at least this morning.
With EU package still waiting to be finalized, fiscal packages on countries' level rise calling for bigger and bigger need for funding, resulting in spreads in periphery widening significantly in the last few weeks. Yesterday we saw Italian 10Y paper reaching spread of 275bps versus bund before ECB announced it will ease its limits on collateral for funding as there is possibility of downgrade by credit rating agencies. Similar action was done by FED just a week ago when they decided to buy "fallen angels". So, it was another ECB action that limited yield rise in periphery spreads, at least for the day. However, there were some countries which spread overjumped spread that we have seen a month ago when ECB announced PEPP.
Talking about PEPP, ECB did report that it had bought EUR 70bn until April 17th, meaning that it was buying more than EUR 3bn worth of bonds a day, as it started on March 26th. That was not enough to keep yields and spreads steady for a period longer than a month as investors became aware how big the wall of new debt is. Just in the first three days this week we have seen many EA countries issuing new debt, including Italy, Portugal, Slovakia, Spain and so on. Just to put things into perspective how big these issues are, Italy and Spain only issued EUR 25bn and this was just a chunk of funds that will be needed. But still, the most interesting thing about these auctions is enormous demand. Namely, on Italian syndicated auction, there was more than EUR 110bn for dual tranche while for Spanish 10Y paper there was bid of almost EUR 100bn (EUR 15bn issued). Most likely demand was way above supply due to new issue premium (new SPGB 2030 was issued at 17bps premium over current 10Y) but it is not clear why we did not see such a support on the secondary market. All in all, it seems like without strong signal from EU leaders that they will do whatever it takes, ECB will have to be the only player in that game meaning that they will have to increase its buying to hold yields not to fly to the sky.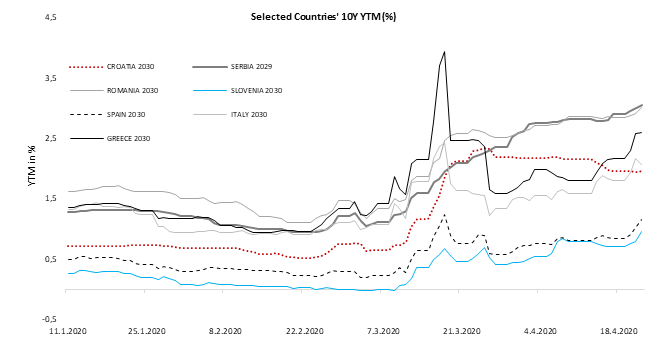 Source: Bloomberg, InterCapital