It will take a few more weeks before the new Croatian parliament is formed and the new government confirmed, but so far you get the point – the transition of power is going to be smooth with no speed bumps ahead. Croatian Eurobond yields made another move South in a response. What else can we expect from Croatian yields in dull summer months ahead? Find out in this brief article.
Croatian general election ended with a landslide victory for the incumbent HDZ, which managed to secure 66 seats in a 150-seat legislative body. Since a total of 76 hands is needed to form a governing majority and the ruling party will likely secure the hands of national minorities (eight hands in total), as well as two more hands from some of the smallest parliamentary parties, we can conclude that a stable transition of power is ahead (if we can call that a transition at all – word continuation would be more appropriate). Before moving to economic implications of general election, it's worth remembering that a record low voter turnout (46.9%) favoured the incumbent political parties and it's interesting that two of the strongest parties received less ballots than four years ago: HDZ 603k in 2020 versus 683k in 2016, while SDP lost nearly a third of the votes in this quadrennial period, dropping from 637k in 2016 to 415k in 2020.
So what exactly does it mean for the next four years? Well, first of all the new/old prime minister announced that the number of ministries is definitely going to be cut down now that his seat is no longer dependent on the support of junior partners. From the current number of twenty ministerial seats, the new government will likely work well with as many as fifteen ministers and the transition could be achieved by merging over-lapping cabinets. This doesn't necessarily mean that the central government will become more efficient of less expensive. However, decision-making process might become easier since a big hurdle in form of junior parties' approval is removed from the decision flow. At the same time this means there would be less corrective function that previously came from junior parties – this spells less tensions in the governing majority, but at the same time puts the members of the government in a situation of slightly elevated moral hazard compared to status quo ante.

Croatian international bonds staged a really in a response to election results. Looking at the Chart 2. submitted below (spreads to Germany) we can see that in the first few days of July the G-spread on second to longest Croatian Eurobond (CROATI 2.75 01/27/2030) contracted by 26.2bps (from 188.2bps to 162.4bps). The new Croatian Eurobond (CROATI 1.5 06/17/2031) was a real treat for holders: issued at 197.4bps above the German paper, it currently trades at 178bps spread, meaning that whoever bought it at the primaries now sits on some 3.40% capital appreciation gain. What's even more curious is that looking at the spread curve, the paper still looks attractive versus CROATI 2.75 01/27/2030, giving some 16bps of extra yield. Here's something to think about: REPHUN 1.625 04/28/2032 could currently be purchased @ 102.10 (1.43% YTM, 180bps above Germany) – does it mean that Croatia is trading too tightly? We beg to differ, since the expectation of ERM II accession any time soon paves the road for more CROATI spread contraction ahead. The euro area accession momentum is something that hasn't been fully priced in and currently we see it as a sort of a "climate change" – a gradual process that will not be visible overnight, but would become material as small changes compound.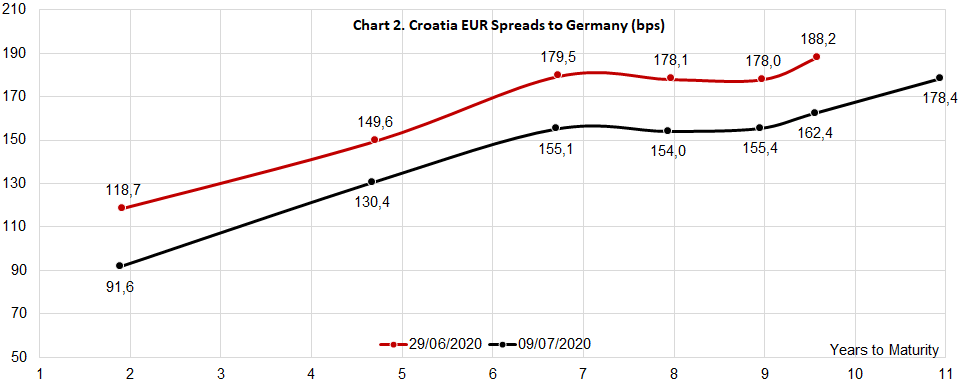 Investors targeting shorter durations have probably noticed a weird development on CROATI 3.875 05/30/2022 – yesterday it was being bid at 107.00 (0.16% YTM, 83.6bps above Germany), which isn't too surprising now that the political stability has been reassured.
Moving from the Adriatic further east, Cyprus and Romania placed fixed income instruments on Tuesday. Cyprus placed 24s and 40s, and it's quite interesting that the 24s are currently traded in 0.20%-0.40% YTM region, just slightly below where hypothetical CROATI24€ would be. For colour, CYPRUS 0.625 01/21/2030 is currently traded in 0.88%-0.96% YTM area, a good indication where CROATI 2.75 01/27/2030 might end up once euro area accession gets fully priced in (Cyprus and Croatia have equal credit rating).
Speaking about Romania, the country placed a dual USD-denominated tranche on Tuesday: 1.3bn USD of 31s @ 3.045% YTM and 2bn USD 51s @ 4.00% YTM. After staging a good opening rally yesterday (at one point 51s were traded 115 pips above the reoffer), the prices collapsed and retrieved to reoffer levels over insufficient demand. Most of the local investors got what they were after, while EM passive funds haven't yet received enough funds to shop for Romanian USD assets. Seems short term speculators, which were abundant on these long ROMANIs, they will have to either cut losses, or become bedfellows with long ROMANIs until the demand stages another rally.