Following SBITOP's best year since 2007, the index is traded at a P/E of 8x. This is still significantly below the 7 year average of 10x. For our first blog of 2022, we decided to take a closer look at the estimated/planed 2022 earnings of SBITOP constituents.
2021 could definitely be described as a stellar year for Slovenian equities with SBITOP showing a total return of roughly 45%. To put things into a perspective, this represents SBITOP's best year since 2007. However, despite such a run, the index is still traded at a P/E of 8x, which is one of the lowest multiples in the region. Additionally, such a multiple is substantially lower than SBITOP's 7 year average of 10x, while compared to developed markets the index is traded at a discount of more than 60%. This is also one of the largest discounts to developed markets in the past 7 years.
SBITOP's P/E (2014 – Jan 2022)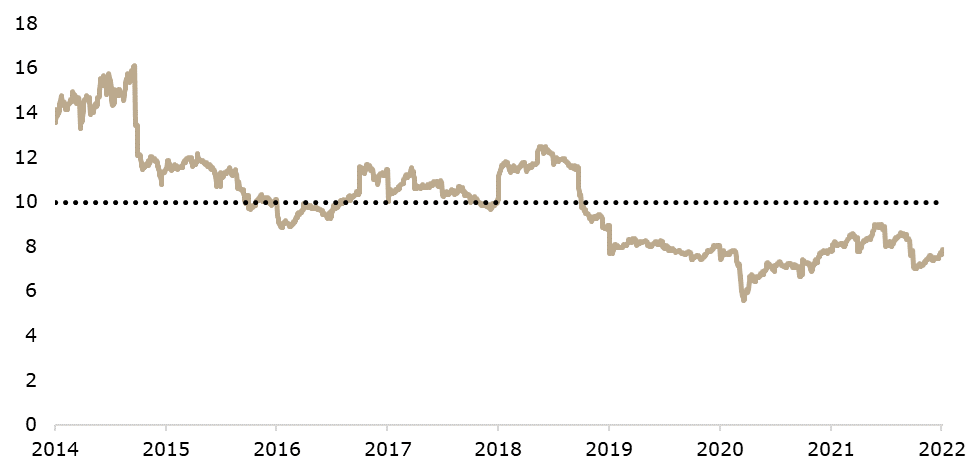 Source: Bloomberg, InterCapital Research

As most companies have already published their 2022 business plans, it makes sense to look at what forward (2022) P/E is the index traded, according to those plans.

Krka, as the index heavy weight, expects sales of products and services at EUR 1,610m, noting a 5% increase compared to the 2021 sales estimate and expects to see a net profit of approximately EUR 300m. We expect to see a decrease in Krka's net profit in 2022 on the back of a lack of FX gains seen in 2021, higher marketing expenses and normalization of gross margin. Our full report on Krka is available to our Research subscribers.

Petrol Group recently published their plan according to which the Group plans to generate a net profit of EUR 158.3m in 2022, indicating an increase of c.29% YoY (compared to their TTM 2021 results). Such an increase is mostly expected to come from the consolidation and the integration of Crodux, which represents the greatest one-off increase in the number of points of sale in the Petrol Group's history.

For NLB Group, we are also estimating a decrease in net profit of roughly 11% YoY. We note that such an estimate almost solely comes on the expected normalization of cost of risk due to the expected normalization of provisions and impairments for credit risk.

Triglav Group has also recently published their Outlook, according to which the Group expects 2022 EBT to reach between EUR 120m and EUR 130m indicating potentially a mid single digit YoY increase. Such an increase could arguably come from expected premium growth planned in existing markets of region and from cross border insurance services in EU markets.

Sava Re's 2022 plan estimates a net profit of > EUR 60m, which should indicate a ROE of 11.5%. We note that the Group has the same net profit estimate for 2021 as well. As a reminder, the company has initially published a bottom line plan of > EUR 53m, which they have already reached with 9M 2021 results.

Luka Koper plans to achieve a net profit of EUR 32m in 2022, indicating an increase of as much as 23% YoY. Such an increase is expected to come mostly due to higher planned net revenue from sale, lower cost growth than revenue growth and higher financial revenues.

Telekom Slovenije is planning a net profit of EUR 27.9m, representing a 11% YoY decrease compared to TTM 2021 results and a 9% decrease compared to the initial 2021 plan. According to the company's plan, a drop in revenues from basic telecommunication services is expected to continue on the Slovenian telecommunications market, which is developed and already in the phase of saturation.

Cinkarna Celje is expecting net profit to reach EUR 20.1m in 2022, representing a decrease of 26% YoY (compared to 2021 estimates). The decrease is expected to come as direct result of the decrease in the sales prices of titanium dioxide pigment and the increase in the prices of strategic raw materials and energy products.
It is important to note that we have seen quite frequently positive surprises with the guidance's that these companies have published in the past. Taking all of the above stated into consideration, SBITOP's 2022 P/E is roughly 9x, which is still quite below it's historical averages. We still argue that this is very much fundamentally attractive and remain positive on Slovenia.