According to the Statistical Office of Slovenia, seasonally adjusted GDP decreased by 13.0% compared to the Q2 of 2019 and by 9.6% compared to the first quarter of 2020.
In the second quarter of 2020, decrease could mostly be attributed to domestic consumption as lock-down of the economy due to Covid-19 pandemic imposed damage. Domestic expenditure declined by 12.0% YoY due to both final consumption expenditure and gross capital formation. Namely, final consumption expenditure declined by 11.8% YoY while gross capital formation dropped by 12.8% YoY. General government expenditure growth decelerated to +1.5% (vs. +4.9% YoY in Q1) as government introduced measures to dampen the fall in economic activity.
Household final consumption, as the most significant component of the final domestic expenditure, decreased by 16.6% YoY and gross fixed capital formation by 16.7% YoY. Decline in construction investment was less prominent than decline of investment in machinery and equipment; construction investment went down by 14.1% and investment in machinery and equipment by 26.2%.
Due to the Covid-19 outbreak and halt in international trade, the drop of external demand evidenced in Q1 for the first time in ten years continued and exports decreased by 24.5% YoY, export of goods decreased by 21.9% and due to stop in international travelling export of serviced dropped by 35%. Similar decrease was evidenced with imports which decreased by 25%. Due to strong drop in exports, the external trade balance had a negative contribution to GDP growth (-2.1 p.p.).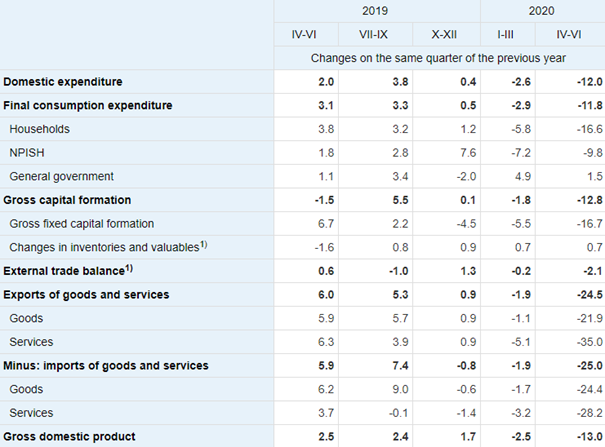 Source: Statistical Office of Slovenia