According to the latest GDP release by the Slovenian Statistical Office, GDP growth on a YoY basis slowed down to 1.1% in Q3 2023. Furthermore, during 9M 2023, it grew by 1.3% YoY.
The latest data for the Slovenian GDP has been released yesterday. According to the release, a significant decrease in imports and exports has been recorded during Q3. In fact, imports decreased by 12.1% YoY, while exports decreased by 9.2%. This also meant that the external trade balance amounted to EUR 1.15bn, and contributed 2.4 p.p. to GDP volume growth.
In terms of domestic expenditure, it decreased by 1.4%. Breaking this down further, final consumption expenditure increased by 0.2%, while fixed capital formation declined by 6.1%, mainly due to a decrease in inventories. Furthermore, gross fixed capital formation grew by 8.3%, mainly due to an increase in investments in buildings and structures. Finally, household consumption expenditure decreased by 0.8% YoY.
GDP by expenditures, constant prices, growth rates (%)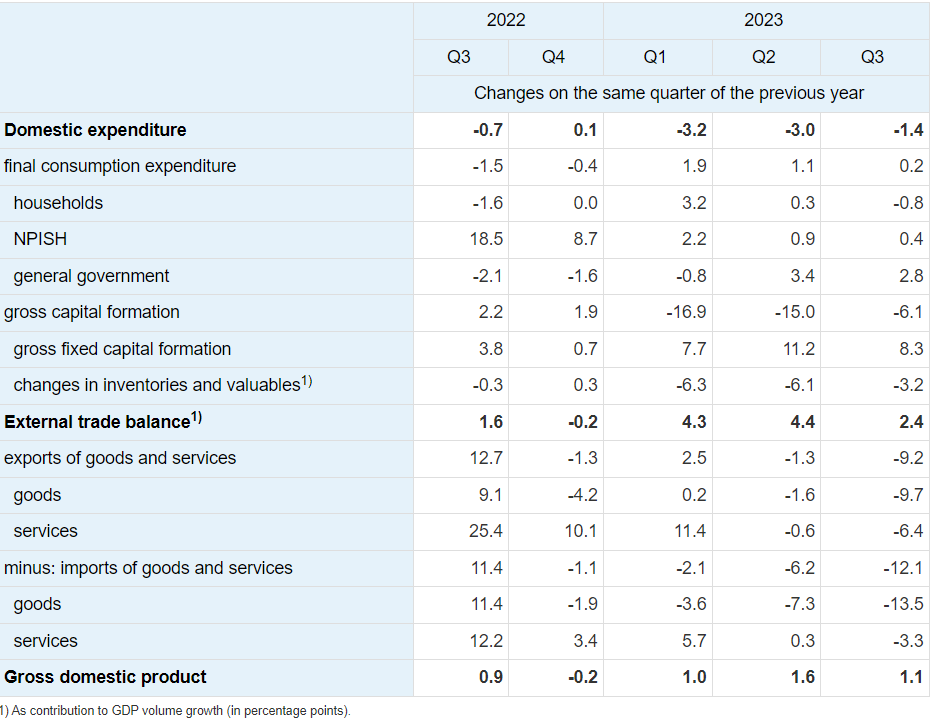 Source: SURS, InterCapital Research
All taken together, this led to a slowdown in the Slovenian GDP growth, as it grew by only 1.1% YoY in Q3 2023, and by 1.3% YoY in the first 9M 2023. If we were to look at the value added by activities, the largest growth rate was recorded by the Construction segment, which grew by 18.4% YoY in Q3 (21% in Q2 2023), contributing significantly to overall growth. Besides this category, no notable increases have been recorded, with most categories ranging from 0 to 2% YoY growth. On the other hand, the largest YoY decrease was recorded by financial and insurance activities, which declined by 3.6% YoY, while in Q2 2023 they grew by 9.7%. This segment was surely under the influence of the natural disasters that affected Slovenia in July and August, which led to higher insurance claims and higher costs across the board.
Slovenian GDP YoY growth rates (quarterly, real GDP growth rates, Q1 2015 – Q3 2023, %)
Source: SURS, InterCapital Research