The index is up by as much as 11.4% YTD.
SBITOP has ended yesterday's trading day with an increase of 0.78% and has therefore surpassed the 1,000-point mark. To be specific, the index ended the trading session at 1,003.38 points, which was last time seen more than 11 years ago (February 2010).
The index has noted quite a strong start to the year, as the positive sentiment in regional equities continued. The mentioned resulted in an increase of the index up by 11.4% YTD, thus outperforming the majority of global indices (S&P500, Dow Jones, Nasdaq etc.).
Performance of SBITOP since 2010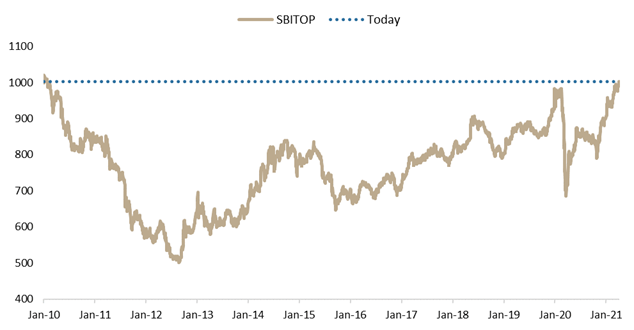 Source: Bloomberg, InterCapital
When looking at the Slovenian blue chips, all of them are YTD in green, while 5 of them observed a double-digit increase. Of that, Sava Re observed the highest share price increase of 27.6%, followed by Cinkara Celje (+19.1%). Petrol comes next with an increase of 15.4%, noting the highest individual impact on SBIPOT. Next come Telekom Slovenije and NLB with an increase of 14.7% and 12.7%, respectively.