NAV of Croatian UCITS funds breached the HRK 20bn mark in June, for the first time since the outbreak of the pandemic.
Since asset managers play a significant role in the Croatian capital market, it is particularly interesting to see how they have been performing in 2021. As visible from the graph below, NAV of all funds has witnessed a steady increase for 15th consecutive month, and as of end June stood at HRK 20.24bn (+2.1% MoM). This represents an increase of 11.1% YTD, but still a decrease of 12.26% compared to the pre-pandemic highs (Feb 2020). On the positive side, Croatian mutual funds have reached HRK 20bn for the first time since pandemic.
The biggest absolute increase on a YTD basis of AUM was observed in deposits and cash by HRK 972.7m (+22%). Shares follow with an increase by as much as HRK 468.4m (+27%). On a MoM basis, deposits & cash and receivables have observed the highest absolute increases by HRK 388.7 (+8%) and HRK 196.2m (+845%), respectively.
Looking at the asset composition of Croatian UCITS funds, shares have noted a slight increase in total AUM by 1.3 p.p. YTD and currently account for 10.6% of the total AUM. This is still below the 10y average of 12%.
We also note that domestic shares account for 27.04% of total equity holdings. Domestic equity has so far in 2021 seen a 18% YTD increase, while foreign equities have observed a 30.5% YTD increase.
Bond holdings continue to be the largest asset class of Croatian UCITS funds accounting for 54.8% of the total AUM. This does represent a decrease by as much as 7.4 p.p. YTD. We note that the shift in structure comes from the increase of other asset classes like shares, investments funds, deposits and cash. Bonds decreased on YTD basis by 2% with its assets amounting to HRK 11.45bn (EUR 1.52bn).
Total Assets of All Croatian UCITS Funds (2015 – June 2021) (HRK bn)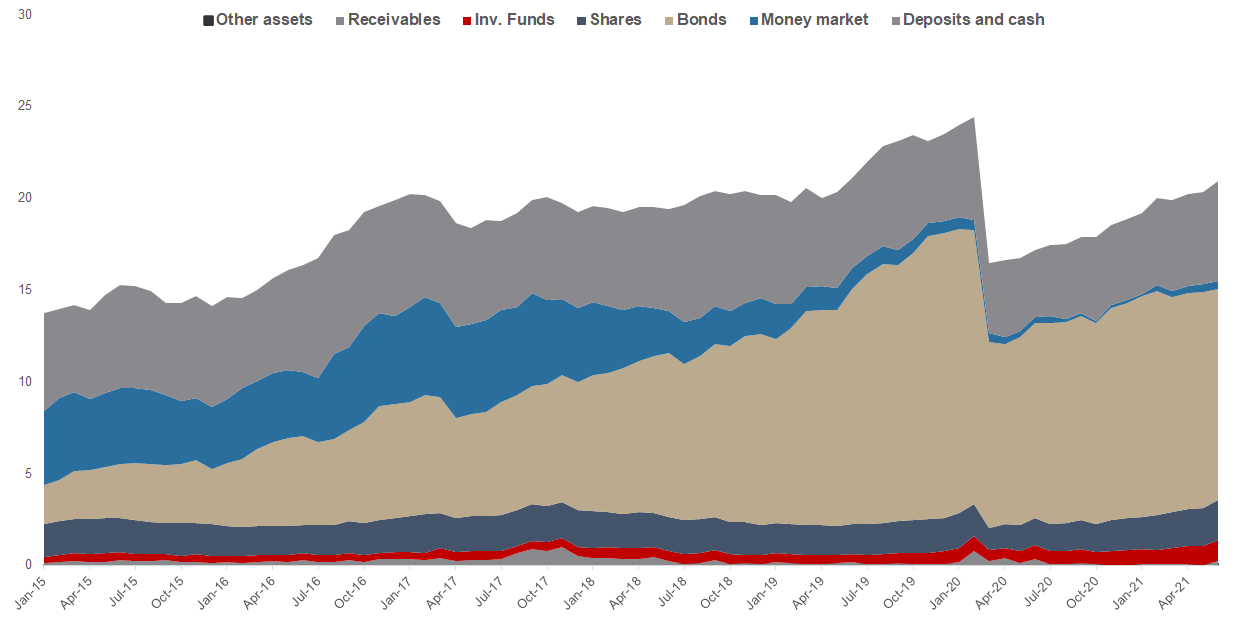 Source: HANFA, InterCapital