The admission to trading is expected to take place in July 2023.
Yesterday, Hidroelectrica announces its intention to list on the Bucharest Stock Exchange. A total of 19.94% of Hidroelectrica's share capital will be offered via the IPO, representing Fondul Proprietatea's entire stake in the Company. The number of shares to be offered will be determined at a later date. Hidroelectrica will not raise new capital in connection with the Offering and will not receive any proceeds.
The IPO will consist of a public offering to retail and institutional investors in Romania and an offering to eligible international institutional investors. Once admitted to trading, Hidroelectrica's shares would be included in the BET index of the BSE immediately following Admission.
Hidroelectrica and Fondul Proprietatea will be subject to a lock-up agreement for a period of 180 days. At the same time, the Romanian State, the majority shareholder of Hidroelectrica, will be subject to a lock-up agreement for a period of 12 months, from the Admission date.
Full details can be found below: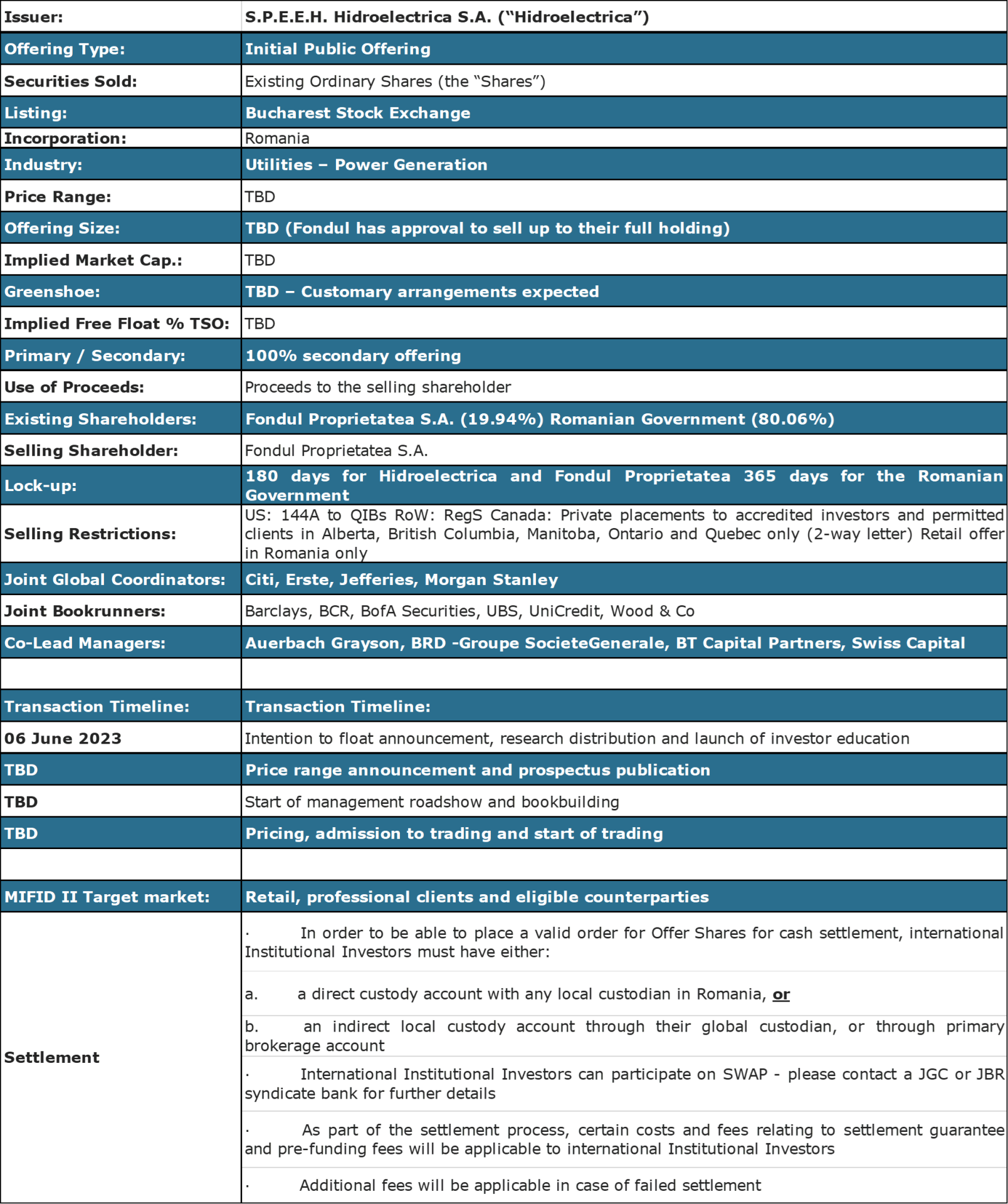 Hidroelectrica targets a minimum 90% dividend pay-out policy whilst balancing the capital needs of the business for future growth and staying within the target leverage. Furthermore, in 2022, a total of RON 4.35bn will be paid, of which RON 3.9bn will be ordinary dividends (payment date on 16 June 2023), while RON 435m will be in the form of special dividends, which will be paid on 29 September 2023. The dividend payout ratio is 99%.
Finally, after listing, Romania should receive an Emerging market status according to MSCI criteria, meaning that a lot more investment, especially from international funds will become available.
Hidroelectrica key financials (2020, 2021, 2022, RONm)
Source: Hidroelectrica, InterCapital Research