The "day when eagle flies" is a very American expression and essentially it means "payday". The resemblance comes from the image of a bald eagle that is used as an ornament on greenback notes. Last week new Croatian bond has been placed at quite an attractive spread to the rest of the curve (wide NIP, i.e. new issuance premium) but so far the reaction has been mixed – the yield is higher, but the spread to Germany is tighter. When will the eagle fly? Find out in this brief article.
Last week's Croatian bond placement caught the interest of several CEE issuers and just last week we were informed that Hungary and Bulgaria have sent out official RFPs. The splash of potential CEE placements might be one of the reasons why you see larger sizes of CROATI 2.875 04/22/2032€ being offered and currently, one large Street bank is axed to sell at least 10mm EUR around 99.40 levels. Notice that this is still some 25 cents above reoffer, so not much of a hurry here. In our talks with the dealers, we found out that they're not particularly worried about Croatia, sticking to the view that Croatia ended the 2022 foreign markets funding round quite successfully and now it's a ("relatively") safe place to invest. The word "relatively" requires some additional clarification. It means that all idiosyncratic risks of Croatian paper have been cleared away, however, the trouble might come from its peers, namely CEE and EA periphery. There are some dark clouds above this "higher yield" (but not HY) cluster, namely the pending second round of the French presidential election and the rising probability of a really ugly Russian sovereign default.
Let's speak about the possible Russian default more closely. Just last week SOE Russian Railways failed to make a coupon payment on its CHF bond, the event that EMEA Credit Derivatives Determinations Committee subsequently described by the term "credit event". That is still not a default – and this is where things become really confusing. Credit rating agencies are banned from the Russian market and local companies suffer under a heavy weight of sanctions. Some of these sanctions include blocking of payments by financial intermediaries and Russian Railways are a case in the point. It's worth also remembering that the Russian state attempted to make coupon payments on its 2bn USD 4.5% 22s and 3bn USD 5.625% 42s on April 04th in rubles instead of dollars, but was of course blocked by the US Department of Treasury on the same ground Russian Railways were blocked. This still doesn't constitute a default because the state is subject to a 30-day grace period. It will expire on May 04th. Yes, that's right, the same day FOMC makes its verdict on interest rate lift off. Now read this paragraph once more – do you get the feeling of option gamma growing around these dates (from all the hedging flow)?
Let's get back to Earth. In a nutshell, CEEs are not loved by bond markets anymore because they carry a stigma of essentially being in the same basket as Russia and potential default might trigger a wide sell off from foreign accounts. We spoke to several European insurers and found out some of them decided to stay put on new CROATI 2.875 04/22/2022€. You probably knew that since the deal summary disclosed by the leads indicated that only 12% of the allocation went to insurers/pension funds. Some two thirds went to "asset managers & funds" and that's the reason the paper might look heavy in the coming months. The potential silver lining, apart from the ubiquitous notion of Croatia and Bulgaria being on a firm path to EA accession in 2023, is the observation that some of the CEEs are looking away from placing a bond in moments like this. Bulgaria decided to pay the 1.25bn EUR international bond that matured at the end of March and instead focused on the local market for funding. Serbia decided to ask for one more loan from United Arab Emirates, conditions undisclosed. Still, the regional heavy weighters such as Poland and Hungary haven't really turned away from foreign markets. They're just lying dormant. The pace of CEE international bond placements is certainly worth looking at in order to predict the flow of new CROATI 2.875 04/22/2032€.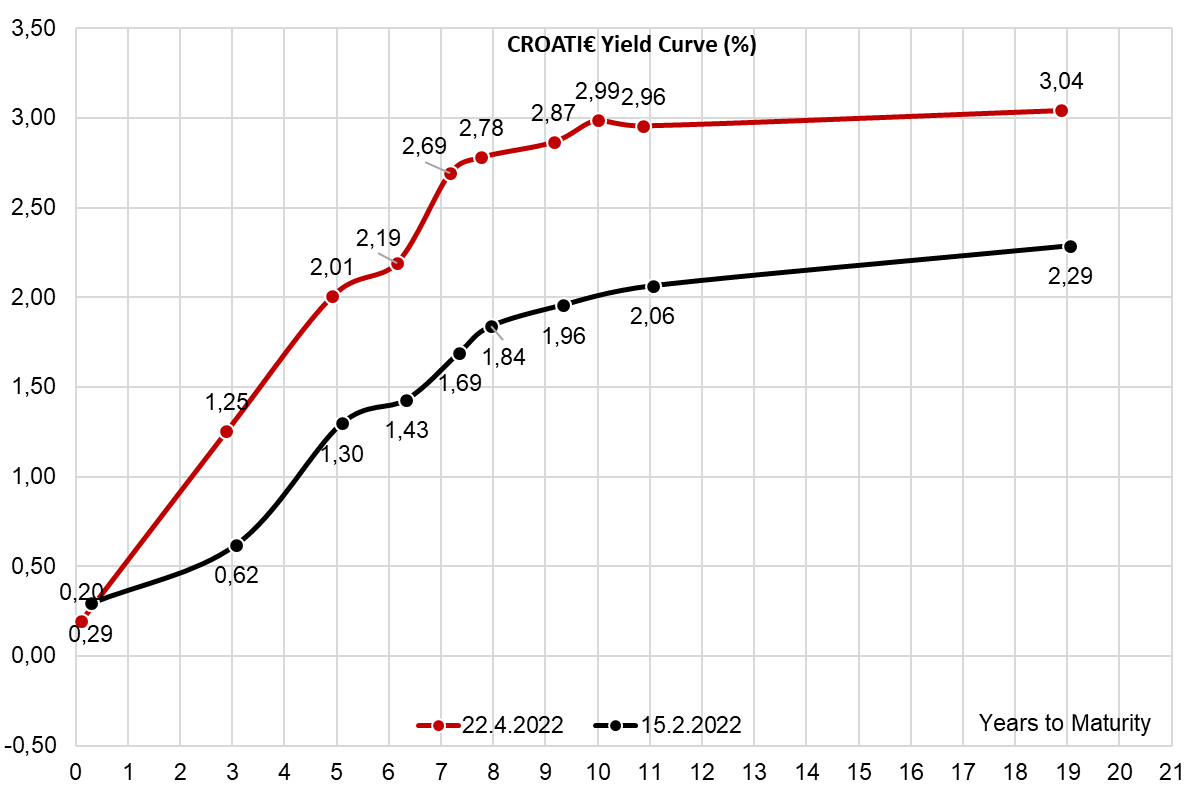 So how's the new bond faring on the Street? The best bid/ask price in small to modest clip (<5mm EUR) is 99.00/99.20 (2.99%-2.97% YTM), which is basically slightly below reoffer. That's B+205bps/B+202bps in terms of spread to Germany on equal duration. Perhaps the only good thing about Russia risks spilling over into CEE is the fact that fast money accounts (the ones that tend to close the position before the settlement) avoided Croatia, preventing a sell off on a wider scale. Plus, the new issuance premium was pretty wide and that's certainly a buffer for the holders.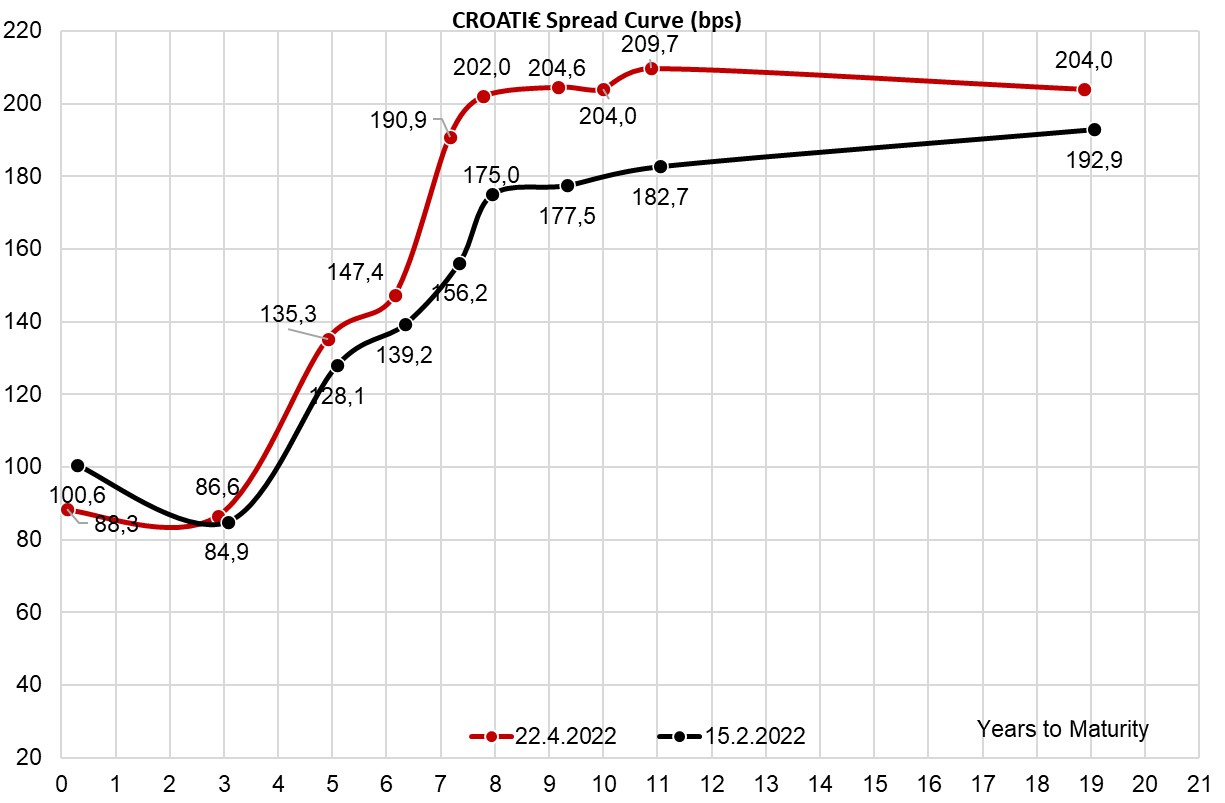 One last thing and then we leave you alone for the day. This is really interesting – first, take a look at "CROATI€ Yield Curve" chart (the first one) and notice that new CROATI 2.875 04/22/2032€ is the 2.99% point on the red curve (this bond doesn't appear on the black curve since it wasn't placed by then). You can see it sticking its head above the rest of the curve, a direct effect of wide NIP used to make the paper float. Right? Wrong. Take a look at the "CROATI€ Spread Curve (bps)" chart (the second one) and notice the spread to Bund has narrowed to merely B+204bps (we mentioned that in the text already) – actually you can see the dent in the opposite direction on the red spread curve. Now, why is that? Could it be that the yield on the benchmark DBR 0 02/15/2032€ is sticking from the rest of the curve? Well, you'll just have to take a look yourself: