As the UEFA Champions League started last week, we decided to present you with a brief overview of the share price performance of some the listed European football clubs.
For football enthusiasts mid-September represents a special time of the year, as it marks the beginning of the most prestigious football tournament in the world, the UEFA Champions League. This year, 32 clubs will be fighting for the crown of the best team in Europe, among which Croatia has one representative for the first time since 2016 – Dinamo Zagreb. Consequently, we decided to bring you a brief overview of the share price performance of the listed European football clubs. Note that of the the 32 clubs playing this years Champions league, six are listed on stock exchanges: Juventus, Borussia Dortmund, Benfica, Ajax, Lyon and Galatasaray.
In order to win their respective leagues and later try and make an impact in either UEFA Champions League or UEFA Europa league football clubs need to spend quite a lot of funds on securing the best possible players. This results in high transfer expenditures, which for the biggest clubs can result in expenditures of more than EUR 100m per transfer period. To put things into a perspective the biggest transfer expenditure this summer was made by Real Madrid, which amounted to EUR 307.5m.
Back in the 1990s when competition prizes, sponsorship and TV rights were not as lucrative as today, many clubs decided to raise capital through an IPO in order to secure the funds need to purchase the best players and finance future results. European football clubs that decided to offer their shares to investors can be found in the STOXX FCTP index which we decided to analyze today, along with its components. Note that the mentioned index is traded at EV/EBITDA of 7.54
STOXX FCTP Index Performance (2015 – 20.9.2019)
When looking at the index structure according to countries, Denmark tops the list with 5 clubs, followed by Turkey (4) and Italy (3). Out of the listed football clubs in the index, Juventus leads the list with the highest market cap amounting to EUR 1.42bn, followed by one of the most popular clubs in Turkey, Fenerbahce with a market cap of EUR 1.22bn. On the flip side, the lowest market cap is recorded by the Polish Ruch Chorzow with a market cap of just EUR 4.4m. The total market cap of the index amounts to EUR 4.25bn.
Market Cap of Selected European Football Clubs (EUR m)
Note that we also added Manchester United to the list which is not included in the mentioned index. Manchester United was listed on New York Stock Exchange in 2012 and currently has a market cap of EUR 2.88bn.
Stock performance wise, 15 of 22 constituents observed a YTD share price increase, with Fenerbahce leading the list with 78.6%. Benfica follows with a 75.1% increase. On the flip side, Ruch Chorzow observed a share price decrease of 57.9%. During the same period STOXX FCTP index observed an increase of 22%.
YTD Share Price Performance (%)
When observing the share price performance of the constituents since 2015, 15 companies obsereved an increase, of which 9 recorded a triple digit increase. Juventus leads the list with an increase of 540.2%. Meanwhile, the index observed an increase of 69.2% in the same period.
Share Price Performance (2015 – 20.9.2019) (%)
The "Ronaldo effect"
2018 was definitely an eventful year for Juventus, as the club signed Cristiano Ronaldo on 10 July for EUR 117m. Such a decision seemed to be a very lucrative one both off and on the pitch for Juventus. Before the club had even completed the signing, Juventus raised the average cost of season ticket prices by 30%, and all 29,300 of them were sold out. It is also worth noting after Ronaldo's signing, 520,000 shirts were sold in 24 hours which is roughly translates to EUR 56.5m of sales. However, the most interesting fact is probably that the share price after Ronaldo's signing observed an increase of 78% until its 2018 peak (21 September 2018), which can be observed in the graph below. According to the company's half year report (31 December 2018), Juventus observed an increase of 26% YoY in ticket sales, amounting to EUR 38.3m. During the same period, television and radio rights and media revenues, which accounts for 38% of total revenues, recorded an increase of 14% YoY. Of that, 55% (or EUR 68.9m) relate to revenues participation in the Group Stage of the 2018/2019 UEFA Champions League, showing how important is the presence in Champions League for clubs. In the half year, total revenues amounted to EUR 330.2m, showing an increase of 14% YoY.
However, the company's bottom line observed a sharp decrease of 83%, as it was affected by an increase in staff costs of EUR 38.2m. The mentioned item went up as a result of higher fees paid to players purchased during the first phase of the 2018/2019 Transfer Campaign. Therefore, we are eager to see the FY 2019 results to better comprehend whether the Ronaldo effect has fully taken place.
Juventus Share Price Performance (2015 – 20.9.2019) (%)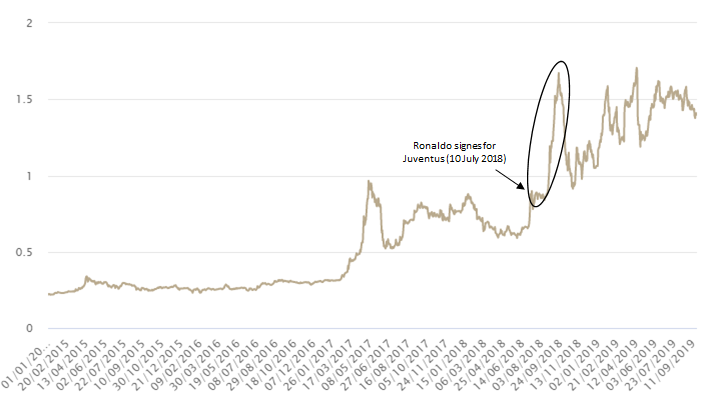 The importance in performing well in UEFA matches
The importance of a club participating in European competition can be seen when looking at their ticket sales and broadcasting revenues as well as compensations received from UEFA. Of course, the further the club progresses in UEFA matches, the more they earn in ticket sales, broadcasting revenues and UEFA compensations.
According to UEFA, the gross commercial revenue from the 2019/20 UEFA Champions League, the 2019/20 UEFA Europa League and the 2019 UEFA Super Cup is estimated at around EUR 3.25bn.
To break things down, each of the 32 clubs that qualify for the group stage of Champions League can expect to receive a group stage allocation of EUR 15.25m. Additionally, clubs will receive performance bonuses for each match: EUR 2.7m per win and EUR 0.9m per draw. After qualifying for the knockout stage, clubs will receive additional compensation for each round they further qualify to. To put things into a perspective, if a team wins every single game on their way to winning the Champions League, they will earn EUR 82.5m. It becomes very evident how a good performance in the competition affects the clubs P&L.
As above-mentioned, performance in UEFA matches, also directly influences ticket sales and broadcasting revenues. For example, when looking at Manchester United's P&L, one can notice that broadcasting revenues have, in the recent years, accounted for roughly a third of the clubs operating revenues. Of that, the media rights for UEFA matches accounted for around 20%, while the rest came from media rights for Premier League matches.
The most observable impact of a good performance in UEFA matches on Manchester's top line in the recent years can be seen when observing the year ended 30 June 2017. In that year, the club won the Europa League, while the year prior, they were knocked out in round of 16. As a result of such a performance, broadcasting revenue for the year ended 30 June 2017 recorded an increase of 38.2% or GBP 53.7m, while ticket sales observed an increase of 17.7% or GBP 16m.
Since there are no guarantees that a club will qualify for the Champions or Europa League, they are exposed to the risk of missing out on lucrative compensations which stem from playing in the UEFA competitions. To help lessen this risk, clubs usually have the majority of player contracts include step-ups in remuneration which are contingent on participation in the group stage the UEFA matches.