Global risk-on driven by monetary stimulus and hopes on economy reopening that pushed world equities close to their highs, fiscal package from EU and S&P Ratings' decision to leave Croatian rating and outlook unchanged made perfect cocktail for Croatian Eurobonds. In the last 10 days, Croatian EUR denominated Eurobond yield curve bull flattened, tightening by 50bps on the shortest part and almost 70bps on the longest paper. Is there more room for Croatian bonds to rise and what to expect next, read in this week's article.
In mid-March and beginning of April, Croatian EUR denominated bonds have witnessed significant spread widening, with yield on CROATI 2030 going from 0.5% to above 2.00% while bund stayed in range of -0.2% to -0.60%. Trend was also seen on all peripheral bonds and non-Eurozone peers, however when ECB announced its PEPP programme it compressed yields in periphery while non-Eurozone EUR denominated Eurobonds did not have any support from the market. With that in mind, Croatian yield curve stayed unchanged at lifted levels until the beginning of last week.
Although there were many asset classes that recovered significantly since start of the crisis, real money did not see much value in Croatian EUR denominated Eurobonds, reflecting several risks surrounding Croatian macroeconomic perspectives. For more than 8 weeks Croatian yield curve was intact with very little flow and mostly offers on the market. Nevertheless, that changed quickly when European Commission proposed common EU fiscal package in total amount of EUR 750bn out of which EUR 500bn should be grant and the rest in form of loans with interest rates as low as 0.00%. According to the document, Croatia could withdraw more than EUR 10bn (above 20.0% of GDP) on top of EU 2021-2027 programme and be one of the biggest beneficiaries of the mentioned programme among EU-27 countries. The programme is still to be fine tuned as 'frugal four' will try to amend it towards more loans versus grant. Also, worth mentioning is that ECB is expected to increase its PEPP envelope today as they used almost one third of the programme until last week. Market now expects PEPP to be increased by another EUR 500-750bn and to last until summer 2021. This week ECB published PEPP detailed data in which we have seen that PEPP did not favour Italy significantly (EUR 8bn more compared to capital key) meaning that ECB will not have to put much effort to defend the programme. We must wait only for few hours to find out what did Ms Lagarde and the team decided but we do not expect ECB to destabilize markets once again as they did two months ago saying they will not save the spreads.
On top of EC's package that will not only be boost for most damaged economies but is also one step forward fiscal union, S&P Ratings unexpectedly published that it leaves Croatian credit rating and outlook unchanged last week. S&P Ratings scheduled revision of Croatian rating only in September 2020 but decided to release its decision as macroeconomic factors changed significantly. However, it left both rating and outlook on 'BBB-' and stable, respectively. In its decision, S&P stated that GDP will contract by 9.0% in 2020 but they 'believe that existing buffers, including ample international reserves and the precautionary currency swap line with ECB should mitigate immediate external liquidity pressures'. To make story short, S&P believes that Croatia will see sharp drop but decreased external vulnerabilities supported by strong reserves and possible entrance into ERM II together with fiscal package should cushion external financing pressures and support solid recovery. Worth mentioning is that Fitch is scheduled this Friday but its negative outlook doesn't worry us much as they should discount all the positive news that came in the last few weeks plus one has to include probable entrance to ERM II system.
So, what exactly happened with Croatian Eurobonds after this news? In short, there was not much offers for several days and yields went South by 50-70bps. Namely, yield the shortest EUR denominated Eurobond CROATI 2022, went from 1.40% to 0.90% while on the longest one contraction was even heavier. Yield on CROATI 2030 went from 2.05% to 1.35%, reflecting capital gain of some 6.0% due to solid duration. Nevertheless, one has to say that most of non-Eurozone have seen strong bid while CEE countries performed in the same manner due to EU package and global risk-on.
However, most of the countries in the region had their test on the Eurobond primary market while Croatia still waits with its first foreign issuance this year, although we expect this one very soon as Croatia has to fund its maturing CROATI 2020 (July 2020). Mr Maric stated that Croatia could issue Eurobond around 2.0% but that was before we have seen yields plummeting so in case technical government decides to issue bonds soon, we would expect them to give investors some pick-up, but in range of 15-25bps on the curve.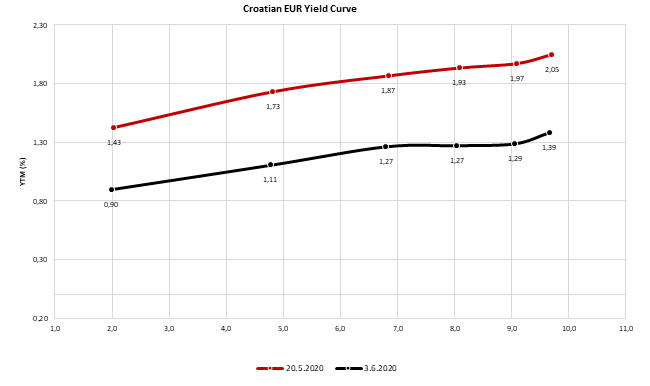 Source: Bloomberg, InterCapital