The pharma industry was heavily influenced by the outbreak of the COVID-19 pandemic with the stockpiling effect and a change in consumer behaviour. However, to see what we can expect in the upcoming years we bring you some key outlooks for the industry up to 2025. For this we used the Global Medicine Spending and Usage report published by the IQUVIA Institute.
Past spending growth typically offers some clues to the level of growth to expect in the future and broadly that will still be true, despite the unprecedented dynamics at play with the COVID-19 pandemic. Medicine spending growth will continue to be driven by traditional factors including patent expiries, launches of new medicines as well as changing volume demand particularly in pharmerging and lower income countries.
While the pandemic has been extremely disruptive, it is clear that other aspects of healthcare have continued and the immediate shocks in early 2020 have given way to patterns of adaptation and adjustment around the world. The success of countries around the world in implementing a global vaccination program unprecedented in speed or scope will be key to the outlook for all medicine use through 2025 and beyond. The key elements of the outlook to 2025 are therefore the handling of the pandemic as well as how that will affect non-COVID healthcare and use of medicines. The pre-pandemic drivers of medicine use and spending remain a significant driver of the outlook and have been only modestly impacted by the immediate effects of COVID-19.
Historical and Projected Use of Medicine by Segment, 2010–2025, Defined Daily Doses (DDD) in Billions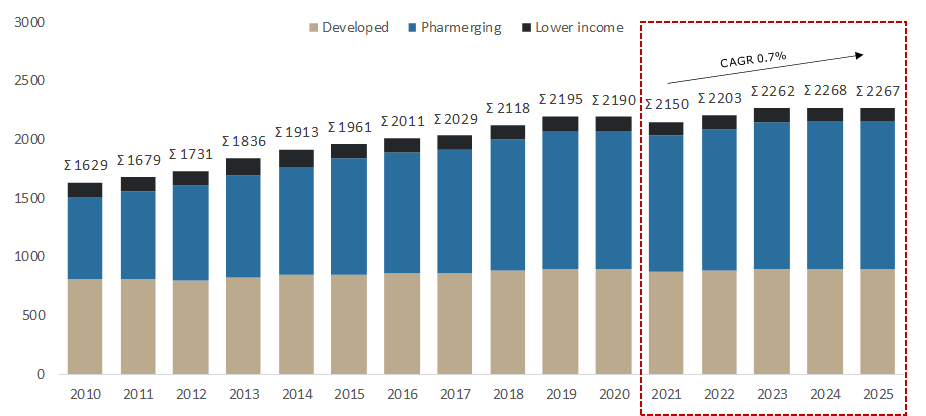 Source: IQUVIA Institut, InterCapital Research
In developed countries, the adoption of new treatments, offset by patent lifecycles and competition from generics and biosimilars are expected to continue as the main factors influencing medicine spending and growth. In pharmerging countries, dramatic increases in healthcare access were the largest driver of changes in the use of medicines historically but the trend is slowing and will result in volume declines across many markets. The global medicine market — using invoice price levels — is expected to grow at 3–6% CAGR through 2025, reaching about USD 1.6 trillion in total market size in 2025 excluding spending on COVID-19 vaccines. The total cumulative spending on COVID-19 vaccines through 2025 is projected to be USD 157 billion, largely focused on the initial wave of vaccinations to be completed 2022. In later years, booster shots are expected to be required on a biennial basis as the durability of immunity and the continued emergence of viral variants make an endemic virus the most likely outcome.
Global Invoice Spending and Growth in Selected Countries
Developed Markets Impact of Brand Losses of Exclusivity 2016–2025, USD bn

Source: IQUVIA Institut, InterCapital Research
Growth in Global Medicine Spending will be lifted by stronger pharmerging market growth through 2025 and offset by developed markets where slower growth will result as losses of exclusivity for original brands outweigh growth from new products. The U.S. market, on a net price basis, is forecast to grow 0–3% CAGR over the next 5 years, down from 3% CAGR for the past 5 years. Japan, the third largest global market will have flat to declining medicine spending as a result of the continued biennial price cut policy, but see rising patent-protected original brand spending coinciding with policies to encourage a shift to generics for older medicines. Spending in Europe is expected to increase by a total of USD 35bn in five years to 2025 with a focus on generics and biosimilars. In pharmerging markets, growth will be led by China, which is expected to accelerate post-COVID driven by greater uptake and use of new original medicines. New brands in developed markets through 2025 are projected to be similar in absolute spending to the last five years, continuing a historically high period of spending on novel medicines. Through 2025 the number of new active substances (NAS) launches are also projected to continue at an above average rate, with an average of 54–63 per year, totalling 290–315 for five years through 2025. The impact of exclusivity losses will increase to USD 166bn over the next 5 years mostly due to the availability of biosimilars, and the cumulative savings from biosimilars will reach an estimated USD 285bn. Five years from now, medicine spending will be nearly 60% from specialty medicines in developed markets and 50% globally, with the remainder predominately older and traditional therapies, becoming progressively lower cost over time.