American journalist Ambrose Bierce is usually credited with the saying that "wars are God's way of teaching us geography". If he was alive today, he would probably say that disease is God's way of teaching us the Greek alphabet. Omicron is the 15th letter of the 24-word Greek alphabet and fortunately the disease would drift away before we get to omega. Meanwhile how did global financial assets react to the new variant and what can we expect going forward? Find out in this brief research piece.
Just when you thought it will soon be over, Sars-Cov-2 pulled another trick from its sleeve. There are currently 1.500 recognized versions of the virus, but one variant detected in Botswana last week gave another reason for concern. The mutation in B.1.1.529 strain was nicknamed omicron by World Health Organization. A bit of a history lesson – alpha variant was detected in the UK some time ago. After delta was detected in India and nu detected in South Africa, the latest strain originated from Botswana and has a mild symptoms. On the other hand this clinical blueprint was recorded on relatively younger population that make up significant partitions of African demography. Nobody can really know what's going to happen once omicron strain heads up north and starts spreading across older populations with plenty of pre-existing conditions. This is the reason why some countries such as UK blocked incoming flights from south Africa, while others such as Israel closed borders altogether.
The possibility of shutting down air traffic to mitigate the spread of omicron strain brought down prices of financial assets, so WTI took a hit of about 10.5% on Friday alone (to 73.6 USD per barrel) and managed to print another move down to 71.6 USD per barrel as of this morning. S&P500 made a move down by as much as 2.3%, while bitcoin is holding up steady.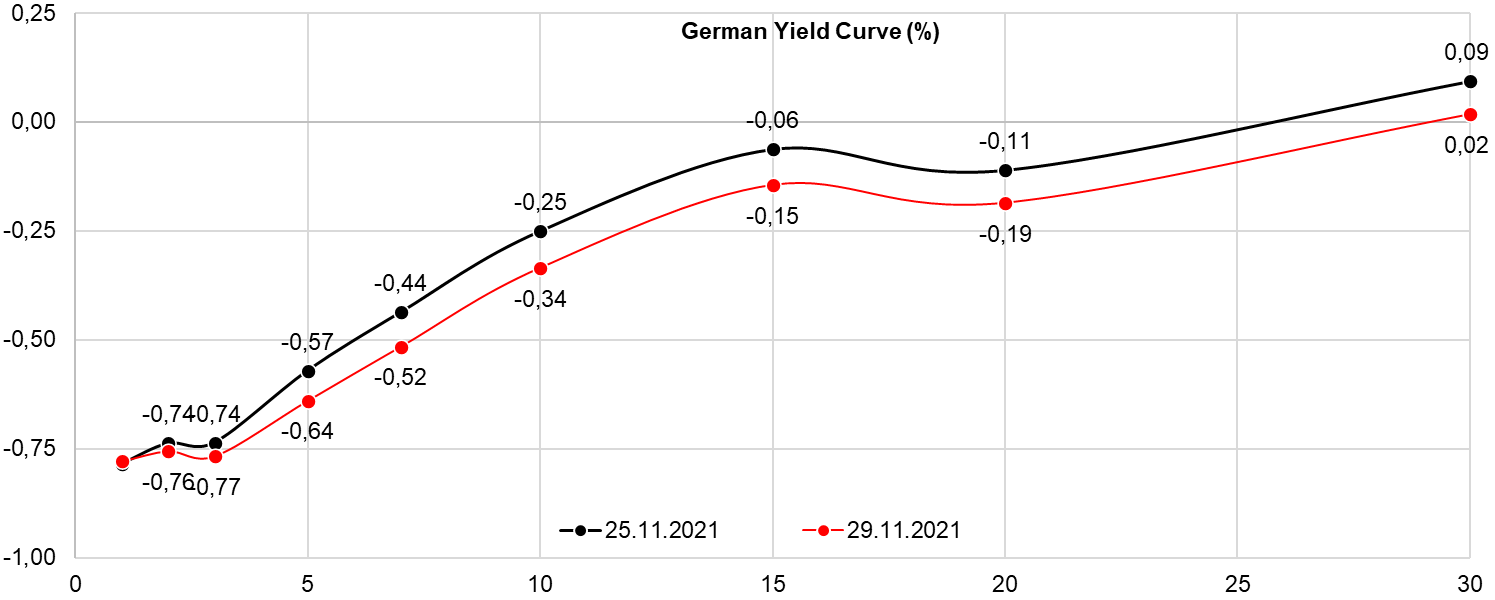 Bonds went through a melt up in the aftermath of omicron strain news as safe haven was bid heavily. German yield curve bull flattened in the response, the same being quite visible on Italian and Spanish curve. Here's something worth thinking about: EDZ2 (Eurodollar futures expiring in December 2022) was traded at 98.935 on Thursday and closed on 99.075 after Friday trading session. We can easily conclude that omicron strain cut about half of one expected interest rate hike by December 2022 and with the market being so short in rates, it's quite possible that the next leg could be up again (in terms of price).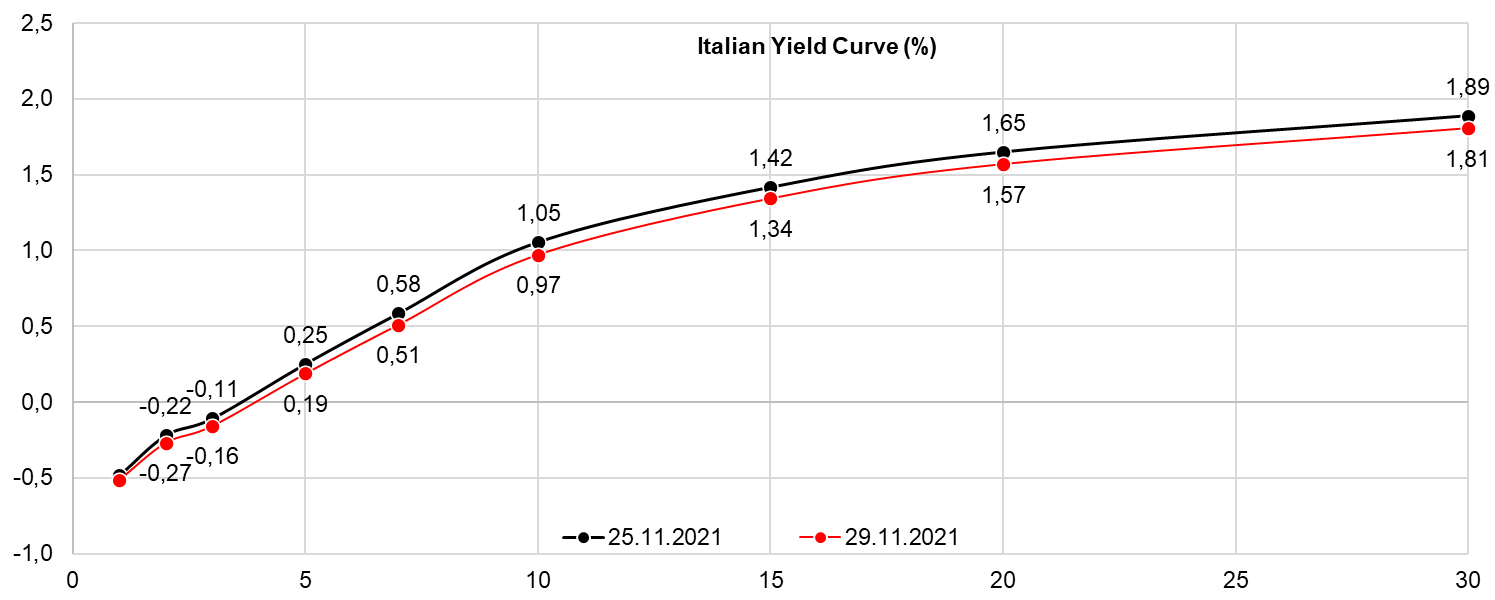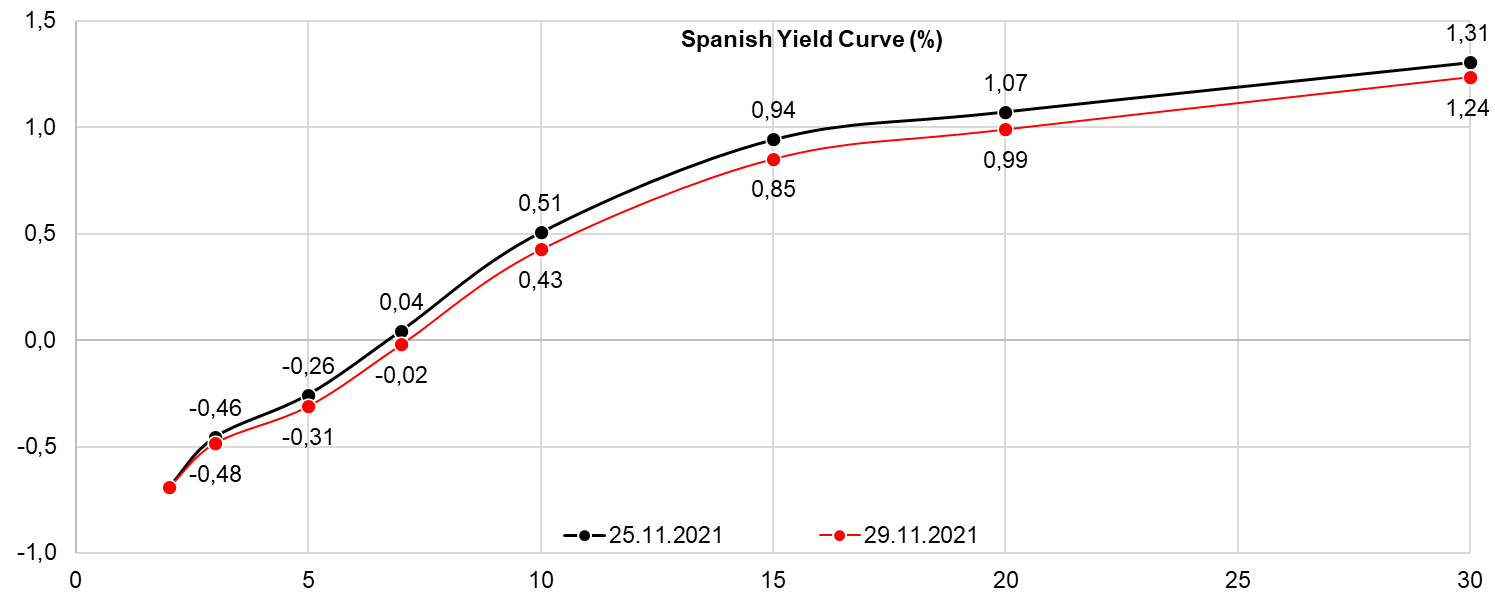 Croatian international bond curve has been intransigent to data, but with all the cash on the sidelines coming from Croatian LDIs and pension funds, it's quite possible the bids might start popping up after the turn of the month. This is when unused cash tends to spill over into buying assets in order to fill in the under-weight gaps in their portfolios, which we believe are abundant because the recent flow from long term investors was not matched by their predictable cash inflows. With Croatian G-spreads as wide as they get, it's easy to comprehend what happens next. It's quite likely the fast UCITS and hedge funds would quickly collect the low hanging fruit and then larger chunks of CROATI€ would probably start trading at spreads significantly tighter compared to the ones recorded this morning.