Croatian Ministry of Finance issued yesterday EUR 1.5bn of new 10Y Eurobond at YTM of 1.32%. Bid to cover stood above 4.0x reflecting strong demand for Croatian Eurobonds as they still have 'some' yield to offer. According to Ministry's plans, that was the only foreign issuance planned for this year and its proceeds are to be used to finance maturing USD Eurobond CROATI 2019.
Year ago, Croatia was also issuing 10Y EUR paper but back then things were a little bit different. Bund stood few ticks below 50bps while Croatia was sub-investment grade by all three major credit rating agencies. Back then, Croatia issued EUR 750m of CROATI 2028 at 2.90%. Bid was substantial and stood above EUR 4.2bn that resulted in spread depression: first indication was 220bps over mid-swaps and that shrunk in the end to 'only' 190bps. Fast forward to today, bund stands below -20bps, Croatia is rated investment grade by S&P and Fitch and, on the Chart 1. submitted below, you could observe how spreads in the region significantly contracted since last year.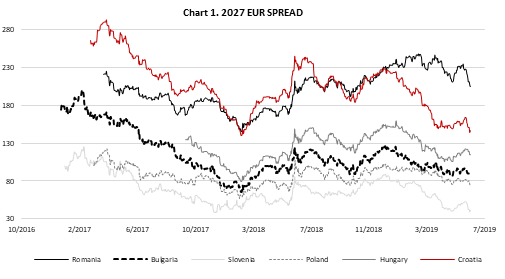 Timing of the auction seems to be perfectly picked, as bund yield stand close to all-time lows while Fitch's decision to be second credit rating house that put Croatia into investment basket is still digesting. As we said in the introduction, 1.5bn EUR of 10Y Eurobond was issued at 1.324% with a coupon of 1.125% and reoffer price of 98.14, meaning that it was issued at 105bps + MS (27bps), compared to first indication of 130bps + MS that implicated YTM close to 1.60%. As expected, bid that stood above EUR 6.4bn was few times bigger than supplied amount which wasn't surprising due to extremely low yields in euro area and recent entrance of Croatia into investment class. At 1.324% YTM the new issue was priced just as interpolation between CROATI 2028 and CROATI 2030 suggested it, although by the end of the day we saw some buying pressure on both mentioned papers most likely due to investors that were worried about their allocation.
Proceeds from CROATI 2029 are to be used to finance maturing CROATI 2019, the only Croatian Eurobond that wasn't hedged through FX swaps i.e. has USD exposure. According to the Public Debt Management Strategy 2019-2021 it seems that CROATI 2029 was the only Eurobond that is to be issued in 2019 while we could expect one more local auction for refinancing RHMF-O-19BA, probably in the last quarter of 2019.
Meanwhile, it's worth looking at the Fitch's rationale to put Croatia back to investment grade (which was widely expected) and setting outlook to positive which surprised the market on the positive side. Main driver for the rating upgrade was Croatian outperformance in respect of fiscal budgets for three years in a row with 2017 and 2018 ending in surplus despite some troubles regarding big private companies and SOE in both 2017 and 2018. Budget surpluses combined with solid rise of GDP drove debt/GDP ratio on a sharp downward trend, i.e. it dropped by almost 10% since 2015, to 74.6% in the end of 2018. Looking at the before mentioned government's debt strategy plan, the debt/GDP ratio could fall to around 65% by the end of 2021 in case no major foreign shocks kick in.
Furthermore, Fitch praised Croatian deleveraging trend and constant current account surpluses which improved Croatian external metrics that Fitch expects to continue as they forecast net external debt to fall to around 10% of GDP by 2020 which is in line with 'BBB' median of 7.9%. Finally, Fitch stated that Croatian GDP per capita is 30% above 'BBB' median and despite growth being slightly below the median, output is finally expected to return to pre-crisis levels. The biggest surprise regarding the decision was positive outlook indicating that if fiscal consolidation and solid GDP growth keep the pace we could see more upgrades in years to come.
So, where are Croatian bonds converging right now? Looking at the Chart 1. you could see that Croatian EUR denominated 2027 bond yields some 60bps less compared to Romanian peer while it is richer for some 30bps compared to Hungary. Croatia and Romania now have the same credit rating by two of three houses but in Romania market prices much of political instability and fiscal and external imbalances that are heavily deteriorating. However, one shouldn't forget that Romanian debt to GDP ratio stands at 35.0% compared to Croatian 74.6%. On the other side, we see Hungary that is rated one notch above Croatia but also has seen deterioration of twin balances due to monetary/fiscal driven above-potential economic growth. Bearing in mind that Croatia is now new name in investment class Croatian EUR denominated Eurobonds could easily come even closer to its Northern neighbors in the following period.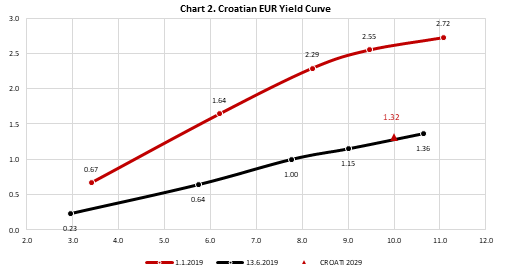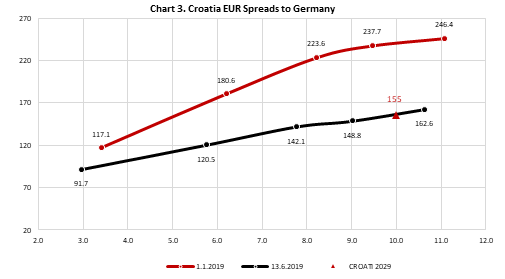 Source: Bloomberg, InterCapital