This week Hungarian central bank raised its reference rate for the third consecutive time. Czech central bank is also lifting its rates while NBR and NBP are still only considering tightening. In this article we are looking at moves and main drivers of the monetary policy in CEE countries.
Widely expected, on Wednesday MNB decided to increase its reference rate by 30bps to 1.50%. However, MNB also decided to gradually phase out its asset purchase program, decreasing weekly amount of HUF 60bn to HUF 50bn which surprised investors and resulted in further appreciation of Hungarian forint. MNB started to lift interest rates in June after May's CPI overjumped 5.0% (MNB targets 3.0% ± 1.0%) and GDP showed more resilient than expected, being above 2019's level supported by consumption and strong rise of investment. In July, MNB increased rates by 30bps once again and terminated two instruments that had effect on longer maturities (FGS Go! and long-term collateralized lending facility) and in the press release they stated that it would be justified to continue cycle of interest rates hikes monthly to ensure price stability and to anchor inflation expectations. In any case, July's press release seemed to be quite hawkish. Coming to this week, MNB hiked once again and announced end of APP but it removed the July's sentence regarding monthly hiking, stating that ".. the Monetary Council will perform a comprehensive assessment of the results achieved by the cycle of interest rate hikes, and will identify risks to the inflation outlook".
Only a day after MNB hiked its rates for the first time in this cycle in June, Czech national bank did the same. CNB's hike of its two-week repo rate from 0.25% to 0.50% was quite expected as CNB in May already stated that rates could start rising from the middle of the year while several officials stated that hikes will be needed sooner than previously thought due to stronger recovery and scare of rising prices. In the June's statement CNB clearly showed that it expects to continue hiking this year and CNB's governor Rusnok stated that interest rates could be lifted at each of the following meetings. Back then, 4 out of 7 members voted for 25bps hike, one member wanted to lift rates by 50bps while the rest voted to leave rates unchanged. Fast forward to August 5th, CNB increased rates once again by 25bps to 0.75%, with members voting the same as in June (one member once again voted for 50bps hike). After the meeting, Mr Rusnok said that rates could rise faster than expected in May and market now expects rates to be lifted towards 2.0% until the end of next year, implying 5 more hikes in 16 months. Czech koruna did appreciate on the hawkishness of its central bank and reached 25.30 level but since the latest monetary policy meeting it depreciated slightly to 25.55.
On the other hand, Polish central bank is in no hurry to raise interest rates despite inflation being way above NBPs target. NBPs governor Mr Glapinski stated that rate hikes could not curb inflation (4.4% in June 2021) this year and they expect it to come back to the target band next year while tightening would slower economic growth. It was known for a long time that NBP's first priority is economic growth rather than inflation while Mr Glapinski seems to be one of the leaders in the dove camp.
Talking about doves, Romanian central bank also defies to tighten its monetary policy despite of economic growth of almost 7.0% this year and inflation being above the targeted band. However, according to the latest inflation report, NBR expects inflation to fall and to remain marginally below the upper bound of the band (2.5% ± 1.0%). Nevertheless, we expect NBR to start its hiking cycle sooner than later bearing in mind their comments on large fiscal and current deficits that Romania was running and is expected to continue posting in the next few years.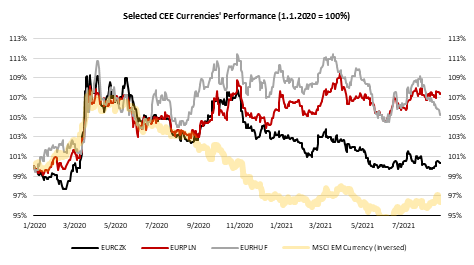 Source: Bloomberg, InterCapital