As of January 2021, Slovenian mutual funds manage EUR 3.32bn, representing an increase of 2.6% MoM.
For today, we decided to present you with a short asset structure analysis of Slovenian mutual funds. When looking at the graph below, one can notice that the Slovenian mutual funds have not significantly changed their asset structure during COVID-19 crisis.
As of January 2021, Slovenian mutual funds manage EUR 3.32bn, recording an increase for the third consecutive month (+2.6% MoM). It is worth noting that net contributions to the funds amounted to EUR 43.4m, representing the highest inflow since December of 2007. As a reminder, the funds already observed a very solid inflow of EUR 37.83m.
It is also worth noting that mutual funds experienced a full recovery after a considerable loss in March 2020 due to the crisis caused by the Covid-19 pandemic. As a reminder, after witnessing a 12.4% MoM decrease in March of 2020, Slovenian Mutual funds have fully recovered and are currently up by 9.9% compared to beginning of 2020. It is also important to add that we have not seen an outflow of funds in 2020 with only 2 months seeing negative contributions. Meanwhile on a FY level, net contributions increased by EUR 133.2m.
Net contribution in the Slovenian mutual funds (EUR m)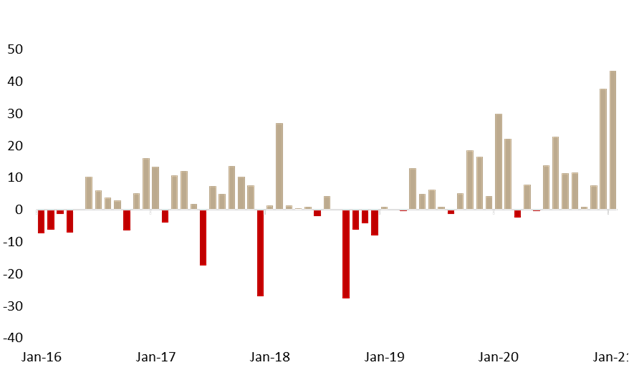 Turning our attention to the asset structure, as of January 2021, shares account for 67.2% of the total assets (or EUR 2.28bn). Shares observed an increase of 1.4% MoM. We note that the vast majority (97.4%) of equity holdings of Slovenian mutual funds come from the foreign market. Domestic equity holdings, which amount to EUR 59.1m have witnessed an increase of 2.4% MoM. Such an increase is somewhat lower compared to SBITOP which increased by as much as 4.2%.
Since the beginning of 2020, Slovenian mutual funds have observed a decrease in domestic equity holdings by 16.8%, while the current EUR 58.1m represents the one of the lowest positions in domestic equity since the inception of Regulator's statistics.
Equity Holdings by Slovenian UCITS Funds (EUR bn)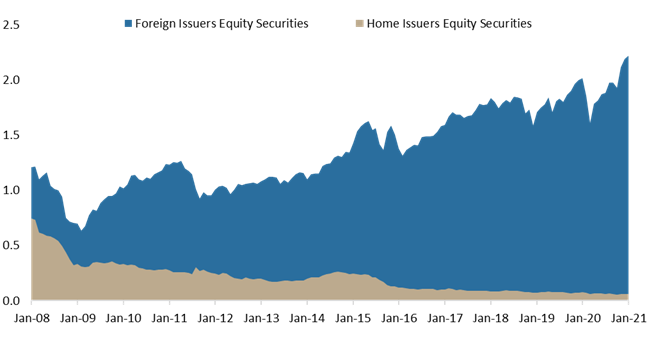 Next come bonds, which make up for 17.1% of the total asset structure or EUR 580.5m. Of that, 94% come from the foreign market. Investment funds' share in AUM amounts to 6.9% of total assets, while money market, deposits & cash account for 6.1%.
Total Assets of All Slovenian UCITS Funds (Nov 2007 – Nov 2020) (EUR bn)